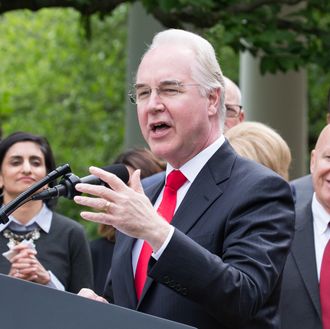 Heyman dared to ask Tom Price about health care.
Photo: Cheriss May/NurPhoto via Getty Images
One week after a protester was convicted of disorderly conduct for laughing during Attorney General Jeff Sessions's confirmation hearing, a journalist in West Virginia was arrested for being too tenacious while asking Health and Human Service Secretary Tom Price a question.
On Tuesday evening, Public News Service reporter Dan Heyman was arrested at the West Virginia State Capitol after asking Price about the Republican health-care bill that passed in the House last week. Heyman wanted to know if domestic violence will be considered a preexisting condition if the bill becomes law.
Price didn't respond, so Heyman kept asking his question. He said he followed Price down a hallway and reached past people in his entourage while holding his phone. Then capitol police "decided I was just too persistent in asking this question and trying to do my job and so they arrested me," Heyman said.
Heyman said police had not given him any warnings before his arrest, and he told them he was a journalist. He was charged with willful disruption of governmental processes, a misdemeanor, and had to pay $5,000 bond.
According to the criminal complaint, Heyman was arrested for "aggressively breaching the Secret Service agents to the point where the agents were forced to remove him a couple of times from the area walking up the hallway in the main building of the Capitol." He was also accused of "causing a disturbance by yelling questions at [Kellyanne] Conway and Secretary Price."
Heyman has worked as a journalist for three decades, and his stories have appeared in national outlets like the New York Times and NPR. He said he's never been arrested for persistent questioning before. "This is my job, this is what I'm supposed to do," Heyman said. "I think it's a question that deserves to be answered. I think it's my job to ask questions and I think it's my job to try to get answers."
The American Civil Liberties Union of West Virginia demanded that the charges against Heyman be dropped, and said the incident is indicative of the Trump administration's attitude toward the press. "They have shown us every day since Donald Trump took office that they don't care about the First Amendment, or the free press," said Jamie Lynn Crofts, the organization's legal director. "Today was just another example of that. It's horrifying."