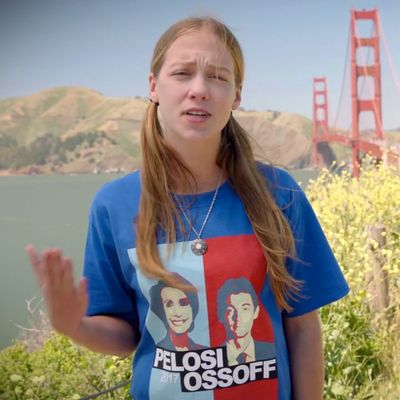 There's a chance these GOP ads associating Jon Ossoff with one of America's most popular tourism destinations may backfire.
As a Georgia expat (who lived off and on for years in what is now the sixth congressional district) now located on the central coast of California, I've been amused by the persistent efforts of Paul Ryan's PAC to depict Democratic congressional candidate Jon Ossoff (now in a June 20 runoff with Republican Karen Handel) as a stooge of Nancy Pelosi — you know, the ultraliberal political boss from godless San Francisco.
The latest GOP ad, however, takes this message to new heights or depths, depending on how you look at it:
As the Atlanta Journal-Constitution describes the ad:
The first TV ad launched by the Congressional Leadership Fund since the April 18 special election featured hipsters and hippies against a San Francisco backdrop praising Ossoff as "one of us."
"We already have Nancy Pelosi as our Congresswoman," says one, "now you're going to give us Jon Ossoff as our Congressman."
The ad ends with more San Francisco flair: A streetcar wrapped with Ossoff's picture, a peace sign and a blue banner that proclaims him "San Francisco's Congressman."
One of the decidedly non-grits-fed figures in the ad sports a button saying "I Support Higher Taxes." Another's button reads "Cut the Military Now!" There are phony Pelosi-Ossoff emblems everywhere.
The ad and others like it earlier reflect the apparently iron belief that just enough prospective Ossoff voters are Republicans (one analysis suggests he won 8 to 10 percent of GOP voters in the first round of the special election on April 18) that a relentless association of the Democrat with Pelosi and her non-heartland city could drive these voters to stay home or turn to Handel.
But I dunno: Switching from attacks on Pelosi to attacks on her city may not be all that smart. The sixth, composed mostly of upscale suburbs with lots of college graduates and a goodly number of transplants from outside the South, isn't exactly Duck Dynasty country, where most people think of San Francisco as Sodom and Gomorrah rolled up into one unholy package. And displaying the iconic sights of the City by the Bay — Fisherman's Wharf, Chinatown, the Golden Gate Bridge, cable cars, etc. — as this ad does, is questionable as well. San Francisco is one of America's favorite tourism destinations, and always ranks high on lists of places Americans would like to live if they could. Seeing the ad's blue San Francisco skies and evoking memories of cool summer days and fabulous meals may strike some sixth-district residents who have been dealing with Atlanta's horrific traffic and erratic weather all day as a pleasant escape, not a dystopian nightmare. But I'm sure the wiseacres who built this obnoxious little culture-war grenade are very pleased with themselves.