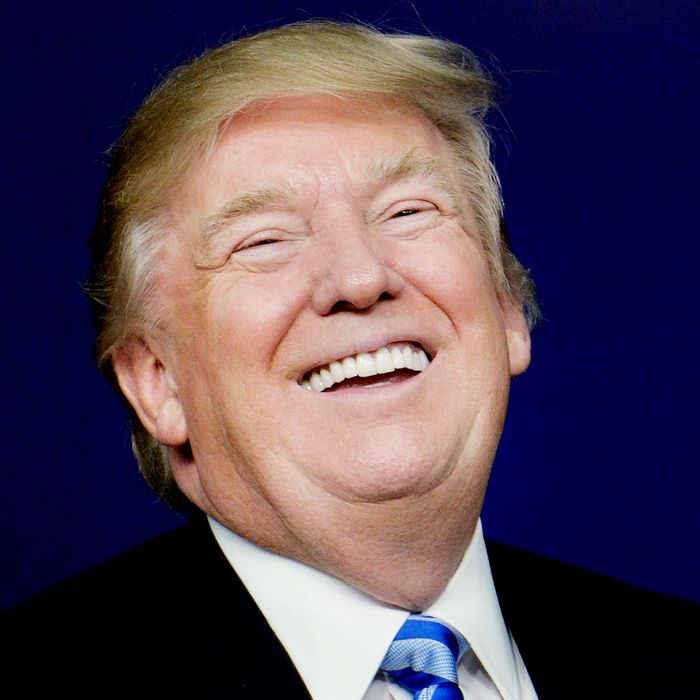 President Trump is famous for his extremely dry wit.
Photo: Olivier Douliery/Bloomberg via Getty Images
In the modern media era, there may be no surer sign of presidential dysfunction than an absence of talking points on the leading story of the moment. The White House had warning in the middle of Tuesday afternoon that the New York Times would publish its blockbuster report on James Comey's memo, and yet by that evening it had formulated no defense whatsoever. Last night's Fox News lineup was a comical procession of unrelated jibber-jabber. Sean Hannity ranted generally about the left-wing media and other Trump enemies, referring only tangentially to the devastating news — "unprecedented leaks, including to the New York Times tonight" — that he neither rebutted nor even described. Tucker Carlson ran segments lambasting the Clinton Foundation and a New York City Council member's inattentiveness to restroom conditions in Penn Station. The closest thing to a relevant defense witness he could summon was left-wing professor Stephen F. Cohen, who reiterated his long-standing and increasingly absurd theory that questions about Trump's Russia connections amount to "neo-McCarthyism." Other party organs were likewise silent. The Wall Street Journal editorial page, which had faithfully repeated the administration's initial claims that Trump was merely following the urging of the deputy attorney general in firing Comey, went to press without any editorial addressing the news.
But then, this morning, a line of defense had begun to fitfully emerge: Maybe President Trump did utter English words that, taken literally, amounted to a request that James Comey stop investigating Michael Flynn. But those words did not convey an actual instruction or any intent to influence Comey's behavior.
Trump was just offering his opinion, without the expectation that his subordinate would act on it:
Or he was merely joking:
Or maybe he was just saying words that were not intended to have any meaning at all!
(Tucker Carlson may well be frantically seeking a literary professor to explain deconstructionist theory to his audience.)
The theory that Trump's apparent instructions to Comey were not instructions at all, but simply disconnected musings or a hilarious bit that Comey failed to understand, suffers from a number of serious flaws. The first is that Trump instructed the other attendees of the meeting to leave the room before he said it to Comey. That is not what you ordinarily do when you're about to tell a really good, albeit dry, joke.
Second, after Trump made his "joke" about wanting Comey to halt the Russia investigation, and Comey did not halt it, Trump fired Comey. Nobody would be that committed to a bit. Third, the letter Trump wrote firing Comey has a sentence implicitly casting Comey's decision not to investigate Trump personally as a point in favor of his keeping his job: "While I greatly appreciate you informing me, on three separate occasions, that I am not under investigation, I nevertheless concur with the judgment of the Department of Justice that you are not able to effectively lead the bureau." Ponder that "nevertheless."
Then there is the fact that Trump, in a mind-blowing interview with NBC's Lester Holt, himself connected the decision to fire Comey to the ongoing Russia investigation.
The nature of language is such that we can never identify an actual instruction with complete certainty. Any number of crimes rely on verbal or written communication that could be a joke or a pun or a fever dream or some kind of absurdist meta-commentary. "Your money or your life," could be a threat to kill a person who doesn't surrender their purse, but it could always be a wry philosophical statement about materialism. Generally, though, the straightforward interpretation of language is the correct one. So it does appear that Trump engaged in obstruction of justice, or else words have no meaning.