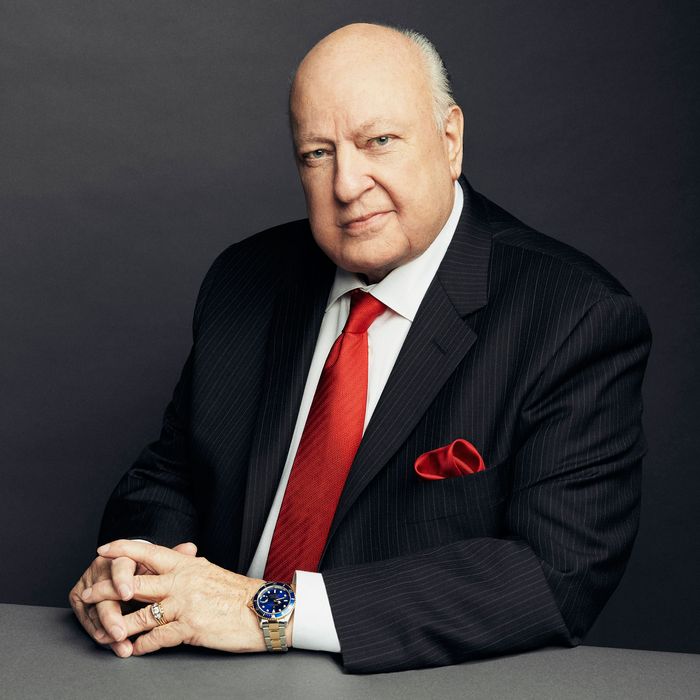 Roger Ailes.
Photo: Getty Images
Roger Ailes is dead. Over his two decades at the helm of Fox News, Ailes built the network into a juggernaut that dominated both cable ratings and the American political conversation. Few people did more to shape the current tenor of our nation's politics.
Ailes was chased out of the network last year by a torrent of sexual harassment allegations.
"I am profoundly sad and heartbroken to report that my husband, Roger Ailes, passed away this morning," Elizabeth Ailes said, in a statement obtained by the Drudge Report and confirmed by Fox News. "Roger was a loving husband to me, to his son Zachary, and a loyal friend to many. He was also a patriot, profoundly grateful to live in a country that gave him so much opportunity to work hard, to rise—and to give back. During a career that stretched over more than five decades, his work in entertainment, in politics, and in news affected the lives of many millions. And so even as we mourn his death, we celebrate his life."
Ailes was a visionary propagandist, who was quick to recognize the power of television as a mechanism for shaping political thought. As an aide to President Nixon in 1970, he penned a 300-page document titled, "A Plan for Putting the GOP on TV News."

"Today television news is watched more often than people read newspapers, than people listen to the radio, than people read or gather any other form of communication," Ailes wrote. "The reason: People are lazy. With television you just sit — watch — listen. The thinking is done for you."
Ailes went on to do a great deal of thinking for the American right. It was his counsel that led Ronald Reagan in 1984 to deflect concerns about his senility with the line, "I will not make age an issue of this campaign; I am not going to exploit, for political purposes, my opponent's youth and inexperience." And it was Ailes who advised then-Vice-President George H.W. Bush in 1988 to deflect questions about the Iran-Contra scandal by attacking the media for presuming the Reagan administration's unconstitutional weapons dealing was somehow relevant to his own presidential ambitions.
In 1996, Ailes helped launch a news network too "Fair and Balanced" to ask such "gotcha" questions of Republican candidates. There may be no greater testament to how important Ailes was to Fox's success than the amount of money the network was willing to spend buying the silence of women he (allegedly) sexually tormented. During his tenure, Ailes directed millions of dollars from Fox's budget into such settlements. Since his departure, 21st Century Fox has paid out $45 million in "settlements of pending and potential litigations" concerning its former CEO.
Ailes was diagnosed with hemophilia as a child, and struggled with medical problems for most of his life.
"My doctor told me that I'm old, fat, and ugly, but none of those things is going to kill me immediately," he said to Vanity Fair in 2013. "The actuaries say I have six to eight years. The best tables give me 10. Three thousand days, more or less. I'd give anything for another 10 years."
"I've been prepared to face death all of my life," he continued. "When it comes, I'll be fine, calm. I'll miss life, though. Especially my family."
Ailes was 77. He is survived by his wife, son, and a nation ruled by one of his network's favorite guests.