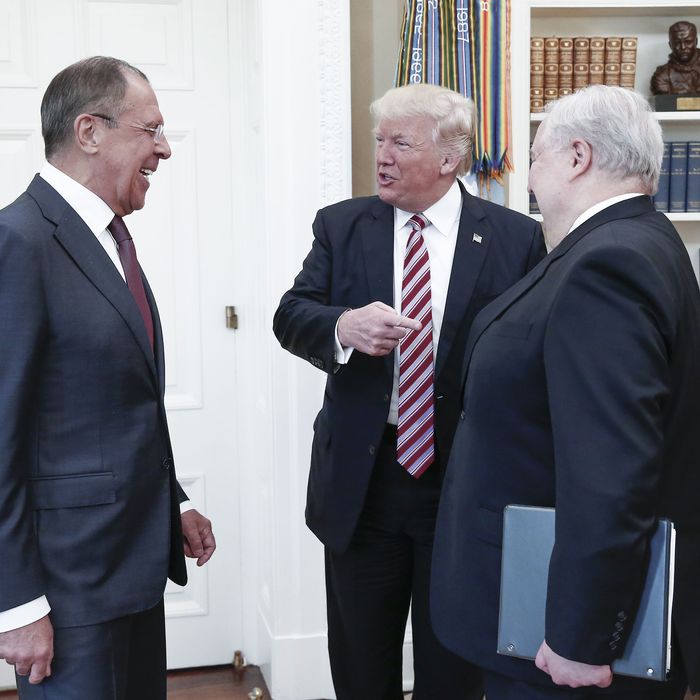 "Can you believe this guy?"
Photo: Alexander Shcherbak/TASS
Less than 24 hours after President Trump fired FBI Director James Comey — reportedly (if not officially) over his frustration with the ongoing Russia probe — the administration is hosting Russian foreign minister Sergey Lavrov in Washington, D.C.
Secretary of State Rex Tillerson and Lavrov met Wednesday morning, after briefly addressing reporters together. During that press klatch, a reporter asked: "Does the Comey firing cast a shadow over your talks?"
Tilerson prepared to step away, but Lavrov responded with faux incredulity. "Was he fired? You're kidding. You're kidding."
Next Lavrov met with Trump and Russian ambassador to the U.S. Sergey Kislyak (whose name you likely know from his starring role in the Michael Flynn and Jeff Sessions dramas). The event was officially closed to media — except photographers for the state-run Russian news agency were apparently allowed to attend, and the Russian government was quick to post images on social media.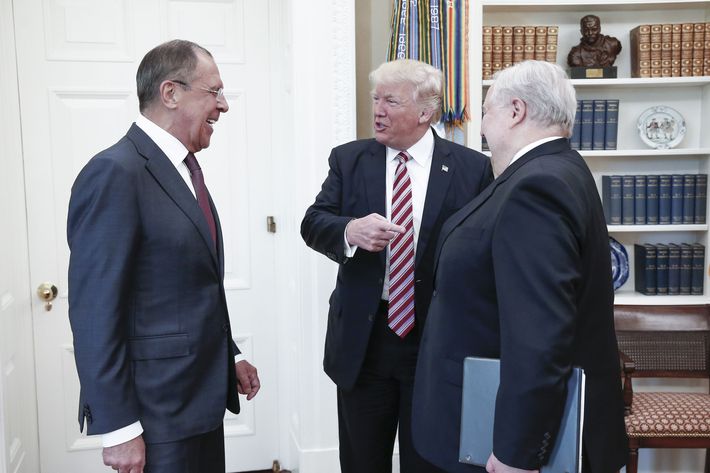 After the Russian visitors departed, Trump invited the media into the Oval Office, where he just happened to be hanging out with Henry Kissinger.
Trump told reporters that his meeting with Lavrov was "very, very good."
Reporters also fired off questions about Comey's dismissal before they were ushered out. Trump said he axed the FBI director because "because he wasn't doing a good job, very simply." He added that his firing did not influence his meeting "at all" with the Russian foreign minister.
The White House later posted this readout of the Lavrov meeting. Kisylak is not mentioned.
And when you thought this situation couldn't get any weirder, CBS News managed to catch up with Russian president Vladimir Putin, in his hockey uniform, to ask him about Comey's firing. "Your question looks very funny for me," Putin responded through a translator, as music blasted in the background. "We have nothing to do with that. President Trump is acting in accordance with his competence, in accordance with his law and Constitution." Then the Russian president apparently went off to play hockey, in accordance with his competence.
This post has been updated throughout.