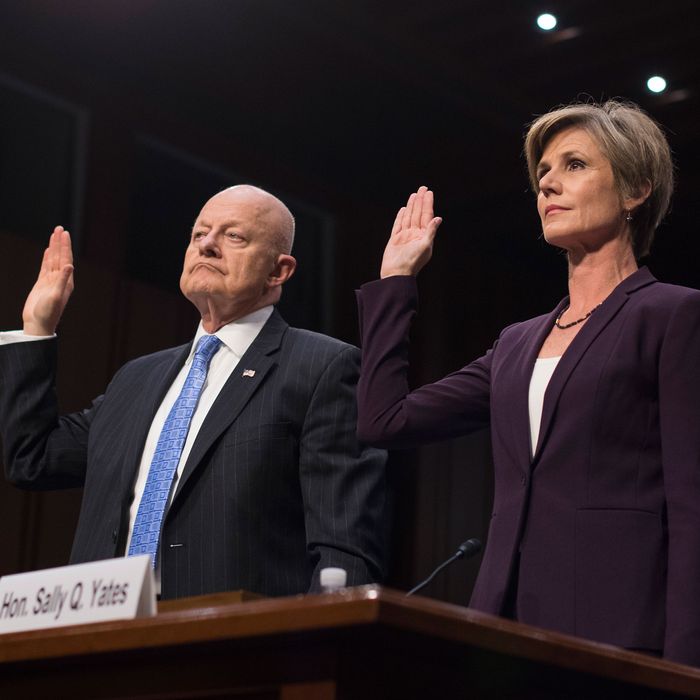 James Clapper and Sally Yates.
Photo: Tom Williams/CQ-Roll Call,Inc.
Just days before she was fired by President Trump, former acting attorney general Sally Yates told the White House that then–National Security Adviser Mike Flynn could be "blackmailed by the Russians," she testified to a Senate judiciary subcommittee Monday.
Yates took this information to White House counsel Don McGahn on January 26, two days after the FBI interviewed Flynn about his contacts with Russia. While she did not go into specifics in her testimony about what she told McGahn, she did say that she shared information that made it clear Flynn was misleading Vice-President Mike Pence, and Pence was making public statements based on this misinformation.
Clearly, Yates was referring to the lies Flynn told Pence regarding conversations with Russian ambassador Sergey Kislyak, something Flynn would later apologize for.
The problem, Yates said, was that the intelligence community wasn't alone in the knowledge that Flynn was misleading the vice-president. The "Russians also knew," she said.
"To state the obvious, you don't want your national security adviser compromised by the Russians," she added.
All told, Yates said she spoke with McGahn three times, twice in person and once on the phone, about the Flynn's misleading statements to Pence. Her concern, she said, was that Pence had been misled and was in turn misleading the American people. She shared the information with the White House so it could take actions it "deemed appropriate."
Initially, the White House "didn't see anything wrong" with what they learned from Yates, Trump's Chief of Staff Reince Priebus said on Meet the Press in February. It wasn't until 18 days after Yates met with McGahn that Flynn was fired, and that only happened after media reports that Flynn had lied to Pence.
Despite the opportunity to learn more about Russia's attempts to influence the presidential election, several Republican members of the judiciary subcommittee focused their questioning of Yates and former director of National Intelligence James Clapper on leaks. That's just what Trump asked them to do on Twitter this morning.
Senator Lindsey Graham asked Yates and Clapper a version of that question and neither of them said they knew how it happened.
In addition to the details of l'affair Flynn, a few senators also asked Yates about Trump's travel ban and her refusal to enforce it. That refusal ultimately led to her firing. Texas senators John Cornyn and Ted Cruz both tried to characterize her decision as partisan overreach, but Yates batted them down.