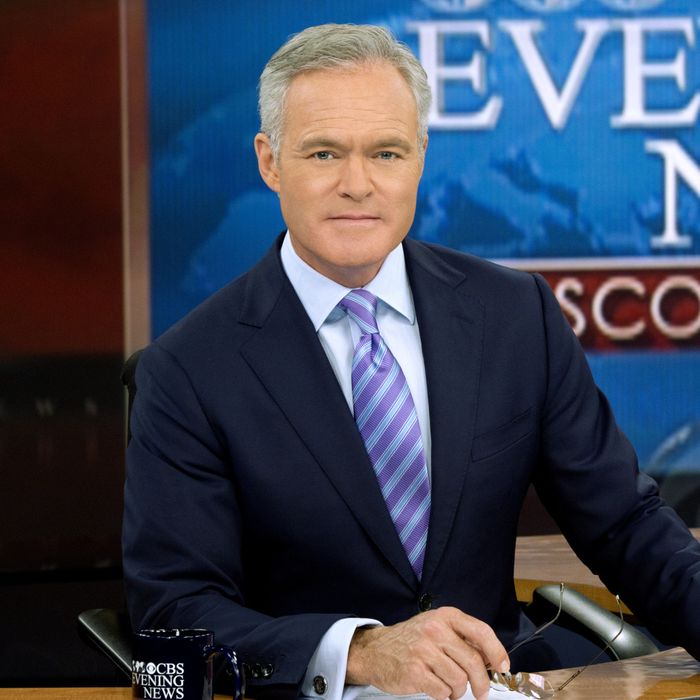 Not coming to a TV screen near you.
Photo: CBS Photo Archive/CBS via Getty Images
Scott Pelley is reportedly being pushed out as anchor of CBS Evening News after six years on the job. He's expected to return full-time to 60 Minutes, where he's served as a correspondent since 2004.
The handling of Pelley's departure is surprisingly awkward, especially since the network prides itself on being drama-free. The New York Post's "Page Six" broke the news on Tuesday night, saying Pelley's office is being cleared out while he's away on assignment with 60 Minutes. Hours later, multiple outlets had the story, but CBS had yet to comment on the matter.
Pelley's ratings have been down, but as CNN's Brian Stelter notes, that's nothing new:
Sources told the Post and the New York Daily News that in addition to his low ratings, Pelley didn't get along with CBS News president David Rhodes.
As the Washington Post noted, Pelley has been pointed in his assessments of the Trump administration. He raised eyebrows with statements like "It has been a busy day for presidential statements divorced from reality."
Pelley took over from Katie Couric in 2011, and there were some significant successes during his tenure. According to his CBS bio, he grew the show's audience "for five consecutive seasons and scored the broadcast's highest ratings in 10 years." He's also won a record 33 Emmys, nearly all for his work on 60 Minutes.
Anthony Mason, who's been filling in for Pelley, is expected to continue helming the show until a permanent replacement is named. Pelley will likely return to say good-bye to viewers.