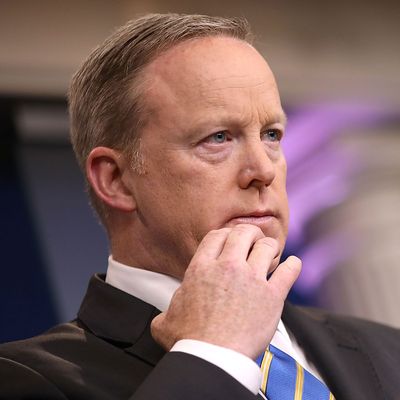 Sean Spicer is shutting down any questions with the word tapes in them.
Photo: Chip Somodevilla/Getty Images
Last week, President Trump strongly implied that he has recordings of his private conversations with former FBI director James Comey. ("James Comey better hope that there are no 'tapes' of our conversations before he starts leaking to the press!") Those recordings, should they exist, seem highly relevant, given that Trump has publicly confessed to obstruction of justice and been accused by Comey, via intermediaries, of demanding a personal loyalty oath in their meeting.
Last week, White House Press Secretary Sean Spicer refused to confirm or deny that the tapes Trump alluded to actually exist. In his press conference today, Spicer extended that refusal even to ancillary questions regarding the tapes. Alexis Simendinger asked if the administration would cooperate with written requests by members of Congress about the tapes. Would Trump deny the request? "The president has nothing further on that … I made it clear what the president's position is on that issue."
Spicer answers Alexis Simendinger on her question about the "tapes."
In fact, Spicer has not made clear whether Trump will cooperate or not with Congressional efforts to secure the alleged tapes.
Hallie Jackson asked why he wouldn't explain whether or not the tapes existed. Answer: "The president has made it clear what his position is."
That is also not an answer to the question of why Spicer will not answer the question.
Trump has not made it clear at all what his position is. Indeed he has threatened Comey ambiguously, using the ambiguity to insulate himself from legal accountability. But now Trump's "clear" answer is being offered as a reason why the administration will not answer any questions about its actions or position on the matter.