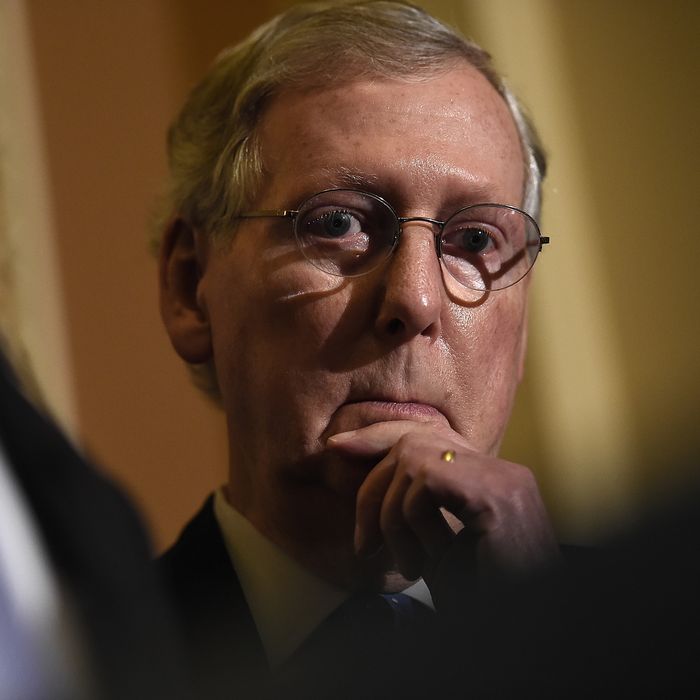 If Paul Ryan can get AHCA passed, surely McConnell can too.
Photo: Win McNamee/Getty Images
From doctors and insurance companies to hospitals and consumer groups, no one likes the Republican health-care bill that narrowly passed the House on Thursday. Even House Republicans who voted for the legislation concede that it's terrible. "Is this bill good? No, I don't like it," Representative Mario Diaz-Balart told the Washington Post, shortly after voting for it. The Florida Republican said that while tens of thousands of his constituents are poised to lose their health insurance, senators assured him they'd take care of it.
He wasn't the only House Republican who suggested he only voted on the bill because he knew the Senate would make drastic changes. According to Politico, that's actually an argument the White House used when pushing to get the House bill across the finish line. "Everyone knows this won't be the final product," said one senior administration official. "So if you don't like something, it's fine."
"We have to have a win on this," the official added. "We don't have a choice."
So while House Republicans joined President Trump at the White House to celebrate scoring a political win by voting to potentially kill or bankrupt millions of Americans, GOP senators were in a much more pensive mood on Thursday afternoon. Senate Majority Leader Mitch McConnell was muted in his statement following the vote, which he called "an important step." He added, "We are now closer to giving our constituents freedom from the increased costs, diminishing choices, and broken promises of Obamacare."
When asked about the bill hours before the vote, Republican Senator Lindsey Graham said he had no idea what was in it, though it seemed like it was "moving in a better direction" toward more state control over the health-care system. "But any bill that has been posted less than 24 hours — going to be debated three or four hours, not scored — needs to be viewed with suspicion," he told the New York Times. (On Twitter he toned down his language, saying the bill "should be viewed with caution.")
Later on Twitter, Graham pointed a finger at House Democrats for refusing to support a bill that would cause more people to lose their health insurance than simply repealing Obamacare (and that calculation was done before House Republicans weakened protections for people with preexisting conditions).
All ten red-state Senate Democrats up for reelection next year are already trashing the American Health Care Act — but not because they weren't open to a bipartisan fix. According to Politico, they agree with Democratic leaders that the bill is so bad it's making Obamacare more popular, and Senate Republicans have made it clear they don't want their input.
"So far the attitude's been 'take it or leave it'," said Senator Heidi Heitkamp, a North Dakota Democrat. "And I think that's not really an invitation to negotiate."
Without Democratic support, Republicans can only lose two votes in the Senate, and it was clear on Thursday that the House bill had only worsened the divisions among Republican senators.
Senator Rand Paul, the most outspoken of the handful of Republicans who want a more conservative bill, said the House Freedom Caucus made it "a lot less bad," but, he added, "I think there's still some fundamental problems that I have with it."
On the other side, Republican senators from states that accepted Obamacare's Medicaid expansion have said they're opposed to measures that could cause millions to lose coverage. Senate rules require a Congressional Budget Office score before they begin considering the bill, and another negative score — which seems likely — could push the centrists even further away.
"I've already made clear that I don't support the House bill as currently constructed, because I continue to have concerns that this bill does not do enough to protect Ohio's Medicaid expansion population, especially those who are receiving treatment for heroin and prescription drug abuse," Senator Rob Portman said after the House vote.
Several GOP senators suggested on Thursday that they would craft an entirely different Obamacare repeal bill. "We will be working to put together a package that reflects our member's priorities with the explicit goal of getting 51 votes," Senator Orrin Hatch said.
On Thursday morning, McConnell convened a small number of GOP senators to begin discussing what their legislation might look like. "It was designed by the leader to be a smaller group of people that represent the different perspectives and points of view in our conference," said Senator John Cornyn, the Senate Majority Whip. "If that group can get to 'Yes,' then [we will] take it to the rest of the conference."
That legislation — which we probably won't see until the summer — would likely include less harsh cuts to Medicaid and more generous tax credits for older Americans. Plus, some elements of the House bill will probably have to be removed because they aren't allowed under the Senate's rules for reconciliation bills.
Getting that legislation past the most conservative members of the Senate, and then securing approval for the revised bill in the House, sounds nearly impossible. Yet, recent years have shown it's unwise to bet against McConnell's political skills, and the Republicans' drive for a win, no matter the costs.