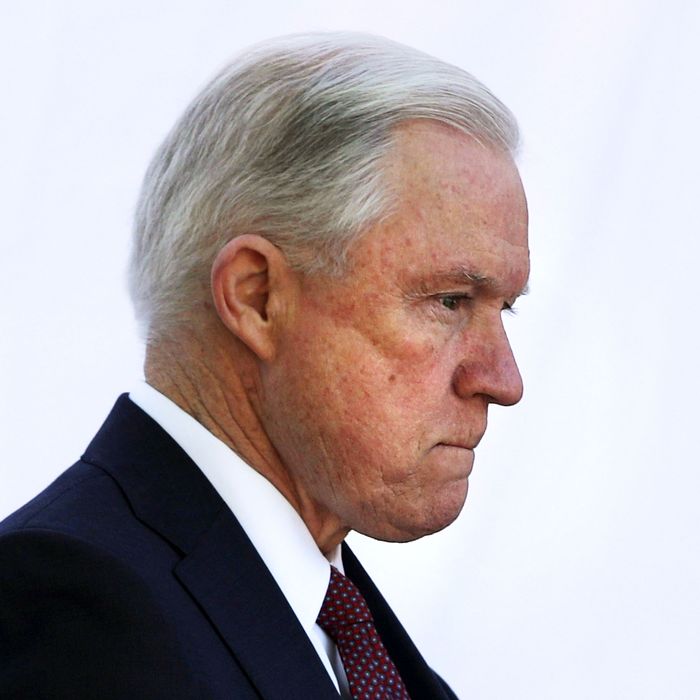 Sessions fought criminal-justice reform in Congress. Now he's in a position to make sure it is reversed throughout the Department of Justice.
Photo: Alex Wong/Getty Images
You would think Attorney General Jeff Sessions might be a bit distracted by the chaos erupting in the federal criminal-justice community over the FBI director's abrupt firing for potentially scandalous reasons. The incident has, after all, raised the specter of obstruction of justice by the president and even the possible disbarment of Sessions for violating a recusal pledge.
But whatever else is going on, Sessions has found time to use his powers to pursue a pet project that is confounding Republicans and Democrats alike — taking the country right back into the War on Drugs as it existed before its horrors began to convince experts across the ideological spectrum that it had failed, at enormous human and financial cost. Sessions took a big step in that direction today, as the Los Angeles Times reports:
Atty. Gen. Jeff Sessions has ordered federal prosecutors to return to tough policies against drug abusers, ending a push by the Obama administration to clear prisons of lower-level criminals serving long, mandatory minimum sentences.
He rescinded two policy memos signed by a predecessor, former Atty. Gen. Eric H. Holder Jr., that told prosecutors to be cautious in their use of methods that can produce dramatically harsher jail terms.
In a memo released Friday, Sessions instructed Justice Department lawyers to "charge and pursue the most serious, readily provable offense."
This represents an important landmark in Sessions's battle against the bipartisan drive for criminal-justice reform. As a senator, he was instrumental last year in blocking Senate action on a bill — supported by House Speaker Paul Ryan and the Republican chairs of the House and Senate Judiciary Committees, among many others — giving federal judges more discretion in imposing sentences for drug offenses. Indeed, when Donald Trump nominated him as attorney general, there was some happy talk that without him botching up the works in Congress, the odds of reform legislation passing might actually go up. But that no longer seems to be a lively prospect.
During his confirmation hearings, Sessions and his allies made a very big deal out of his support for 2010 legislation eliminating the disparity in sentencing guidelines for crack and powder cocaine. This was supposed to demonstrate his openness to criminal-justice reform despite his opposition to the actual ongoing effort in Congress. It seems now that a much better indicator of the direction he intended to follow was his hiring of federal prosecutor Steven Cook, probably the nation's most visible supporter of mandatory minimum sentencing for drug offenses, as the director of a new Task Force on Crime Reduction and Public Safety. Cook spent a lot of time on television attacking the Obama policies Sessions reversed today.
Sessions's directive affects only federal, not state, prosecutorial policies, but as part of a Trump administration about-face based on rhetoric suggesting the country is awash in a crime wave (despite crime rates that are a fraction of what they were several decades ago), it could be very persuasive to Republican pols across the country. It seems clear that the attorney general happily envisions an actual increase in the federal prison population. America's reputation as the world's most atavistic gaoler seems safe.