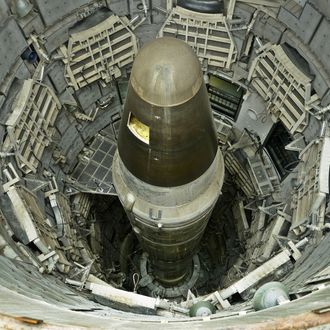 Photo: Brendan Smialowski/AFP/Getty Images
The Shadow Brokers, fresh off its enabling of the WannaCry ransomware, is teasing many more exploits, including some that might end in the nuclear-heat death of the human race. In a broken-English blog post yesterday, the group claimed to possess "compromised network data from Russian, Chinese, Iranian, or North Korean nukes and missile programs."
The group is clearly emboldened by its success (if you want to call it that), after releasing numerous zero-day exploits acquired from the NSA's Equation Group, after they were left on a staging server. Now, it's considering a new subscription model in which it releases new hacking tools to subscribers every month. "Is being like wine of month club," its post states; Blue Apron for malware.
In addition, Brokers is also touting possession of more nonpublic Windows 10 security holes, putting Microsoft on its heels as it tries to plug leaks in software, without assistance from government agencies that continue to hoard secrets. Yesterday at TechCrunch Disrupt, former NSA head General Keith Alexander defended the hoarding practice in the name of public safety, using wishy-washy logic.
The rogue hackers have promised more details on their content-monetization strategy in June.