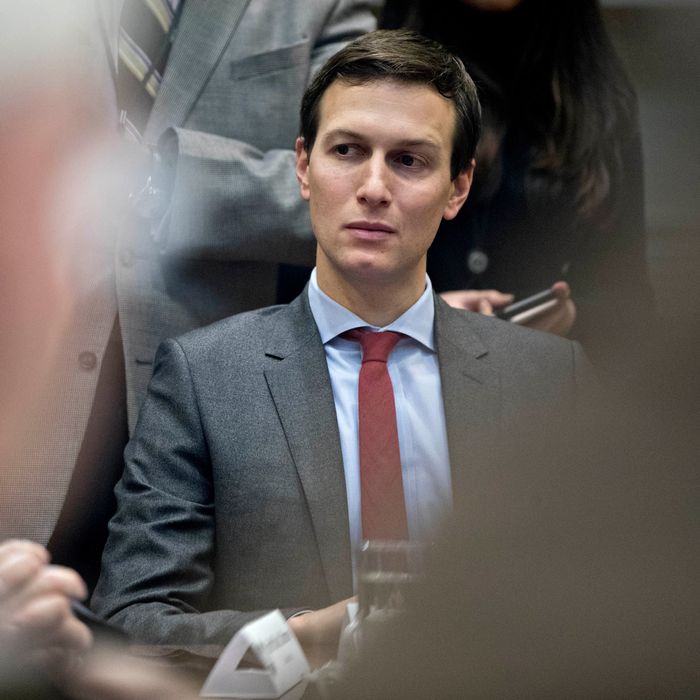 The presidential son-in-law is acting as a "shadow Secretary of State" even as he becomes the focus of investigations into Russia-Trump contacts and perhaps some underlying business deals.
Photo: Andrew Harrer - Pool/Getty Images
It has been something of a running joke that presidential son-in-law Jared Kushner has been given a portfolio as broad as, well, the president himself. Taking it more seriously, former Reagan advisor Bruce Bartlett commented last month that you'd have to "go back to Harry Hopkins, one of Franklin D. Roosevelt's closest advisers, to find someone similar."
Mr. Kushner has been charged with at least three major tasks, any one of which would be a full-time job: working on Middle East peace, preparing for a state visit by President Xi Jinping of China and overseeing a broad effort to reorganize the federal government utilizing business techniques.
Well, now we know that Kushner was basically in charge of a large portion of the president's first overseas trip—to the point that Secretary of State Rex Tillerson had to split up responsibilities with him. Here's how Stef Kight at Axios put it in a piece entitled "The Shadow Secretary of State."
A White House official told Axios that Kushner was the one who helped plan and oversee the first part of the trip — to Saudi Arabia, Israel and Italy — with the theme of speaking to 3 of the world's biggest religions. During the Saudi Arabia stop, an arms deal Kushner reportedly helped negotiate was finalized….
Tillerson lets Kushner take the lead on Mexico, the Middle East and even China, while Tillerson handles Russia, meets with other world leaders, participates in foreign councils and forums and gives the public briefings.
Kushner's increasingly evident authority over foreign policy is all the more interesting given new, multiple reports that put him squarely in the perilous story of contacts between Team Trump and Russia, before and potentially after the Inauguration. Both the Washington Post and New York Times have reported that Kushner met with Russian ambassador Sergei Kislyak—the man already made so famous via interactions with Attorney General Jeff Sessions and with Trump himself—to try (unsuccessfully, as it happens) to set up a secure "back channel" for communications between the nascent US administration and the Kremlin.
The Times account suggested an innocent motive—the desire to accelerate discussions over the nightmare in Syria—but the incident is clearly investigation-bait. That's in part because the central figure of interest in the Russia-Trump saga, former National Security Advisor Michael Flynn, was also in the meeting with Kushner and Kislyak. And both the Times and Post stories on the "back-channel" request mention a separate, later Kushner get-together with Russian banker Sergey Gorkov, a Putin crony. The Post reports this meeting is now "of investigative interest" to the FBI. And this is why, as Reuters reports:
FBI investigators are examining whether Russians suggested to Kushner or other Trump aides that relaxing economic sanctions would allow Russian banks to offer financing to people with ties to Trump, said the current U.S. law enforcement official.
This is where the story becomes potentially toxic for Kushner and the White House generally: where "money" and "Russia" get into the same sentences. Congressional Democrats are certainly interested to find out more, as Adam Schiff, the House Intelligence Committee's ranking minority member, indicated on a Sunday show yesterday:
Schiff said that he expects Kushner to be asked to testify before the House Intelligence Committee. The House Intelligence Committee's top Democrat called for a review of Jared Kushner's security clearance over questions of whether he was truthful in his application about his contacts with Russia.
And even though Kushner's status in the White House is presumably sky-high thanks to the relatively successful first half of Trump's overseas trip, the Times now reports an underlying source of tension:
The most serious point of contention between the president and his son-in-law, two people familiar with the interactions said, was a video clip this month of Mr. Kushner's sister Nicole Meyer pitching potential investors in Beijing on a Kushner Companies condominium project in Jersey City. At one point, Ms. Meyer — who remains close to Mr. Kushner — dangled the availability of EB-5 visas to the United States as an enticement for Chinese financiers willing to spend $500,000 or more….
In the following days during routine West Wing meetings, the president made several snarky, disparaging comments about Mr. Kushner's family and the visas that were clearly intended to express his annoyance, two aides said. Mr. Kushner did not respond, at least not in earshot.
Russia and money, China and money…. the interplay of personal international business interests and people handling the United States' international business keeps popping up with this administration, doesn't it? If there continues to be a whiff of underlying corruption at play, Jared Kushner and his father-in-law had better hope the many people in a position to know what lies beneath the headlines—perhaps, people loyal to Rex Tillerson and traditional ways of conducting foreign relations—don't start feeding a real frenzy of speculation.
In the event that Jared Kushner becomes too "hot" to maintain anything like his current role in the White House, the consequences could be widespread and hard to predict. If Donald Trump cannot lean heavily on family in dealing with what he considers a vipers' nest of leakers, "deep state" subversives and bureaucratic infighters, how can he function?