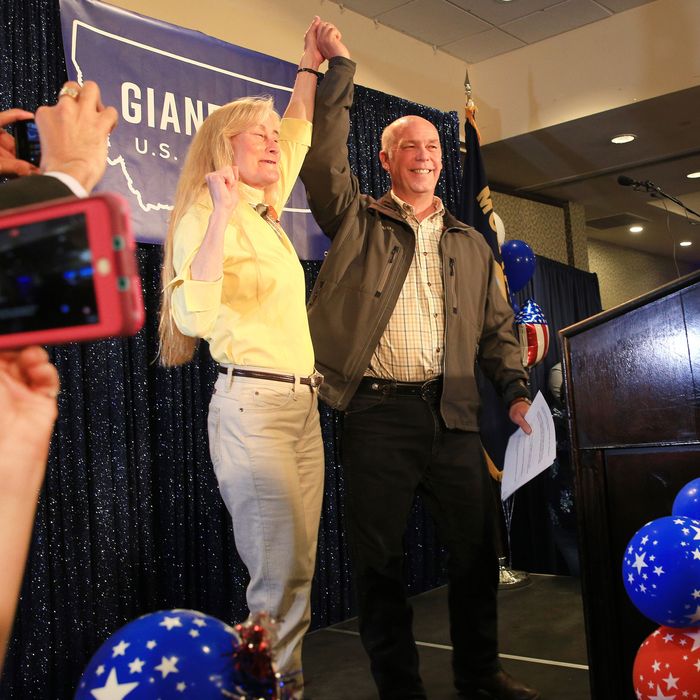 Republicans win another special election, but it's unclear if it has much value as precedent.
Photo: Janie Osborne/Getty Images
Last night's vote-counting for Montana's special congressional election was less exciting than the election-eve incident, wherein the ultimate winner, Republican Greg Gianforte, assaulted journalist Ben Jacobs. He wound up defeating Democrat Rob Quist by a six-point margin. A win is a win, but it was certainly much less impressive than now–Interior Secretary Ryan Zinke's 15-point breezer last November in taking the same seat, much less Donald Trump's 20-point margin over Hillary Clinton. But it did improve on Gianforte's own four-point loss last November in the Montana governor's race.
Here are some takeaways from the race:
1. Trump is not necessarily the kiss of death for Republican candidates. In his losing gubernatorial race, Gianforte all but ignored Donald Trump. In his winning House race he went all MAGA, promising over and over to help the president "drain the swamp" in Washington, campaigning with Donald Trump Jr., and using robocalls from the Mogul himself. At least one survey showed Trump with a surprisingly poor approval ratio in Montana shortly before this election. Disdain for Trump was not evident in the results, though without exit polling, we'll never know for sure.
2. Populism is not a magic elixir for Democrats. It's no secret that some Democrats have for a long time believed their party's biggest problem, particularly in rural states like Montana, was a habit of running "corporate" centrist candidates, instead of "populists" who are culturally in touch with local traditions while waling away at distant, evil economic elites. There was even some recent precedent for this approach in Montana with the success of fiery former governor Brian Schweitzer.
Well, in Rob Quist, Democrats had a "populist" right out of central casting. A well-known country/bluegrass musician, Quist was never seen without his cowboy hat and his big metal belt buckle. He combined support for gun rights with support for a single-payer health-care system. And he barnstormed around the state in the final weekend of the campaign with Bernie Sanders.
Quist's personal financial problems, which Republican attack ads ruthlessly exploited, may have blurred his economic appeal, but the fact remains that he lost to the same candidate that "centrist" Governor Steve Bullock defeated last November. So intoning "populism" and expecting victory is not always a great idea.
3. Early voting turned and bit the donkey. In Montana and elsewhere, Democrats have almost always advocated more early voting opportunities, and have typically benefited from a wide-open franchise. Had Democratic governor Steve Bullock had his way in a dispute with the Republican-controlled legislature, yesterday's special election would have been conducted entirely by mail. But as it turned out, the prevalence of early voting helped insulate Greg Gianforte from a backlash over his election-eve assault. It's doubtful he would have lost without early voting (he seems to have done a little worse among Election Day voters, usually a GOP stronghold), but perhaps if he hadn't felt like he had a victory in the bank, he would have left Ben Jacobs alone.
4. Montana does not provide much of a precedent for Georgia's sixth district. There will be a lot of talk going forward about Gianforte's win giving the GOP "momentum" for the next big competitive contest, the runoff election between Democrat Jon Ossoff and Republican Karen Handel in the sixth congressional district of Georgia. Maybe that's true on the margins in terms of volunteer and donor enthusiasm. But the two places are wildly different in everything other than their history as Republican strongholds.
Georgia's sixth district is one big suburb in a 5-million-person metropolitan area. Traffic congestion is one of its most significant problems. Billings is what passes for an urban area in Montana. The very idea of highway speed limits remains controversial in Big Sky country. Even politically, there are sizable differences: Donald Trump carried Montana by 20 points; he won Georgia's sixth district by just 1 point. In Montana, nobody was really sure about Rob Quist's political appeal. In Georgia, Ossoff won 48 percent of the vote in the first round of the special election, so there's no doubt he can (though there is doubt he will) win on June 20.
5. The GOP money advantage still matters. Though Quist, like other 2017 Democrats, did very well in raising big money (an estimated $6 million) in small batches, in the end non-campaign outside groups supporting Gianforte had the upper hand. According to one estimate, Republican TV ad spending doubled that of Quist and Democrats. So once again, some Democrats are going to charge their own national organizations with insufficient support.
6. None of 2017's special elections are necessarily precedent for 2018. While Democrats fear their grassroots "base" could have a collective nervous breakdown if they don't win somewhere in 2017, there is actually no reason a very good midterm requires winning in special elections over seats that, after all, were vacated by people joining Donald Trump's cabinet — not exactly a representative sample of House districts. A better barometer for 2018 than these special elections is probably the regular off-year elections in New Jersey and Virginia. And better than those might be various indicators — from candidate recruitment to Trump's net approval ratings to the congressional generic ballot — that at the moment are looking quite good for Democrats.
In the Donald Trump era, of course, anything can happen at any minute; November 2018 seems decades away. The best predictions don't stray too far from the road immediately ahead.