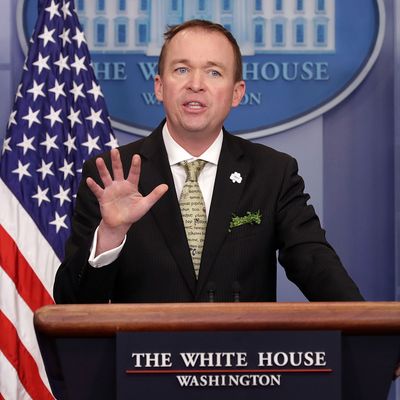 The special election to choose a successor to Mick Mulvaney is a wide-open multi-candidate race for both parties.
Photo: Chip Somodevilla/Getty Images
It's time for another special election to replace a congressman called up to serve in the Trump administration. On Tuesday, both parties are holding multi-candidate primaries in South Carolina's 5th district, which was formerly represented by Trump's budget director, Mick Mulvaney.
In some ways, Tuesday's race is less dramatic than the last two special elections to fill House seats. Unlike the Kansas special election on April 11, there aren't two party-nominated candidates fighting for an immediate trip to Washington. And unlike the Georgia special election a week later, the Palmetto State contest does not offer a multi-party "jungle primary" where one candidate can theoretically win a quick knockout by securing a majority of the vote, as Jon Ossoff nearly did. But there could still be some fireworks, particularly in the GOP race.
Both Mulvaney and Trump won the largely rural district in northern South Carolina by about 20 points last November, but it hasn't always been a GOP stronghold. Democrat John Spratt held a somewhat differently configured version of the district for 28 years until Mulvaney beat him soundly in 2010. (This is also the mythical district that elected Democratic Representative Frank Underwood on the TV potboiler House of Cards.)
The Democratic primary has been relatively quiet. Former House staffer (and Goldman Sachs employee) Archie Parnell was the heavy early favorite, earning endorsements from John Spratt, two former governors, and Democratic rising star Bakari Sellers. He's hoping to win outright tomorrow, then focus on the June 20 special general election. But he could wind up in a runoff with Alexis Frank, a 26-year-old Army veteran and mother of two, who is trying to emulate Jon Ossoff's netroots-fueled campaign. She hasn't even come close to matching Ossoff's (or Parnell's) fundraising haul, but is doing better than previously unknown political novices typically do.
There are seven Republicans running in Georgia's 5th, and a May 16 runoff is a virtual certainty. There are four or five GOP candidates with a chance to get to the second round.
The two biggest spenders and probable front-runners are State House speaker pro tem Tommy Pope, known nationally for prosecuting child killer Susan Smith in the 1990s, and former state legislator Ralph Norman, who resigned to run for Congress earlier this year. Two dark horses are candidates claiming the Trump mantle: former state party chair Chad Connally, who's being backed by North Carolina's Mark Meadows of House Freedom Caucus fame, and Tom Mullikin, who was involved in Trump's 2016 primary campaign in South Carolina. Then there's cultural right-winger Sheri Few, who has gotten attention by attacking Pope's and Norman's votes to take the Confederate battle flag down from the Statehouse grounds. Just today, she attacked the congressional appropriations deal that Mulvaney helped negotiate.
For the moment, the race will be watched for its reflection of intra-Republican factional dynamics. If it gets ugly enough, though, Parnell has an outside chance of taking the seat for the Democrats in June, which is not something you would expect to hear as recently as a year ago.