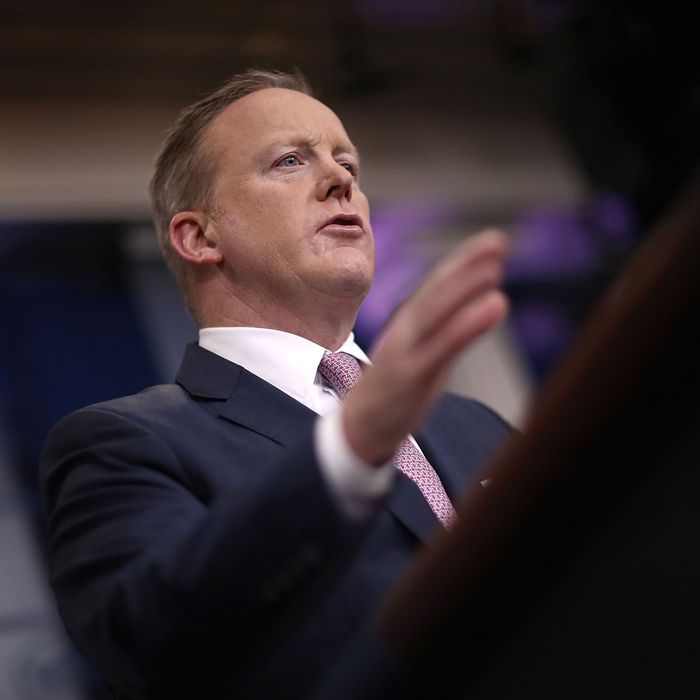 How many times does he have to say it?
Photo: Win McNamee/Getty Images
This morning began with a threat from President Donald Trump to former FBI director James Comey, whom he controversially fired on Tuesday amid Comey's probe into his campaign's potential collusion with Russia.
"James Comey better hope that there are no 'tapes' of our conversations before he starts leaking to the press!" he said on Twitter.
A few hours later in the White House briefing room, as dark clouds comically formed outside, reporters naturally had some questions. Is the president recording conversations that take place in the Oval Office? Did he record his dinner with Comey back in January? Are others being recorded? If Trump installed a recording system in the White House, it would be for the first time since Richard Nixon was in office — and we all know how that turned out.
Unfortunately for the press and the public it intends to serve, White House Press Secretary Sean Spicer provided no clarity.
"I assume you're referring to his tweet," Spicer said, when asked if Trump had recorded his conversations with Comey. "I've talked to the president. The president has nothing further to add on that."
Asked why the president sent the tweet, Spicer reiterated his point: "As I mentioned, the president has nothing further to add on that."
But are there recording devices in the Oval Office or in the residence? "As I said for the third time, there is nothing further to add on that."
Asked, then, if the president thinks "it's appropriate to threaten someone like Comey," Spicer said, "I don't think, that's — that's not a threat. He's simply stated a fact. The tweet speaks for itself. I'm moving on."
Spicer refused to budge, saying at one point that he's "not aware" of the existence of any recording of Trump and Comey's January dinner.
So there you have it. Either the president is surreptitiously taping guests in the White House, or he's bluffing to get some retweets.
Got it?