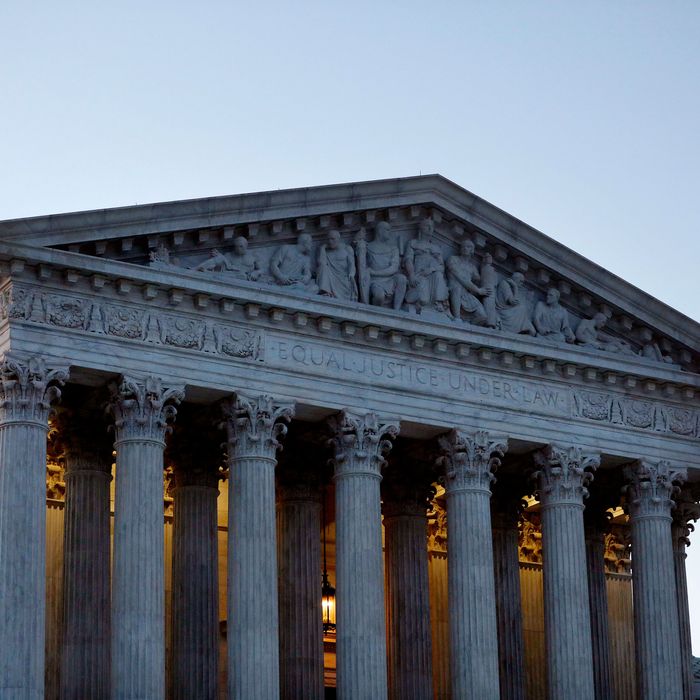 The Supreme Court.
Photo: Aaron P. Bernstein/Getty Images
North Carolina's congressional districts were so gerrymandered in 2016 that Republicans won 10 of the state's 13 House seats, even as 46 percent of the state's voters backed Hillary Clinton.
But for North Carolina Republicans, that map wasn't nearly gerrymandered enough.

The party had tried to redraw the state's district lines so that African-Americans would be packed even more densely into two firmly Democratic districts. The Tar Heel State GOP argued that this move was constitutional, since they were not diluting the influence of black voters for the sake of racial discrimination, but merely for that of partisan advantage. (It is a testament to the sorry state of American democracy that Republicans felt comfortable making this their official defense: We are changing the rules of the electoral system to diminish the political power of a racial minority, but only to insulate ourselves from popular rebuke.)
That argument failed in federal court last year, and a remedial map was adopted for the 2016 elections. And on Monday, the party's lawyers failed again before the highest court in the land.

The Supreme Court unanimously rejected the new lines for District 1, ruling that lawmakers had relied too heavily on race in redrawing its boundaries. The court split 5 to 3 on the constitutionality of District 12, with Clarence Thomas joining the court's four liberal jurists in striking it down.
The ruling leaves 2016's remedial congressional map in place — for now, anyway. Democrats hope to develop a broader constitutional challenge to partisan gerrymandering that would take aim at North Carolina's 2016 lines, along with those of other red states.
"This will serve as a clear warning to Republican legislatures everywhere that if they illegally racially gerrymander, they will be held to account in court," said Marc Elias, a Democratic attorney who argued the North Carolina case before the Supreme Court, told Politico. "This decision lays the groundwork for the challenge to the Republican remedial map … They weren't going to rule on the [partisan gerrymandering] case until they heard and decided on the merits of the [racially gerrymandering] case."