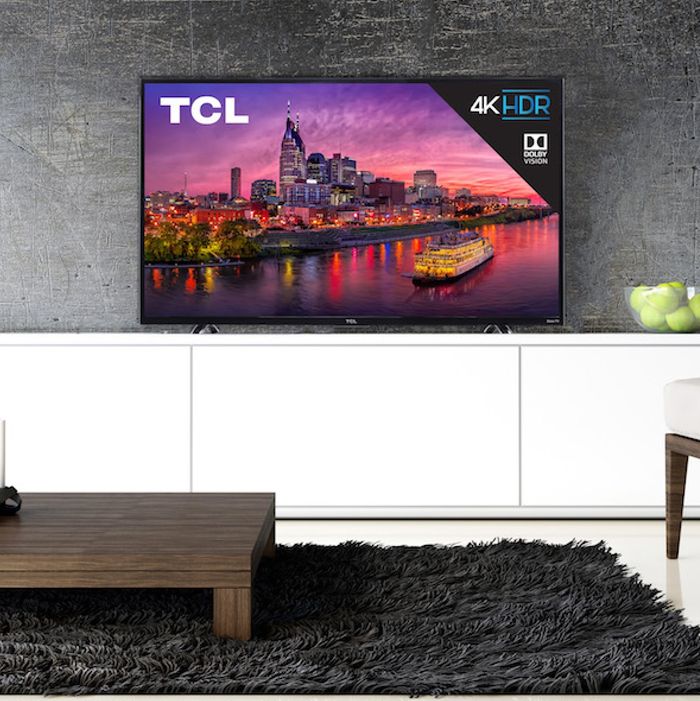 Not only does this TV have a nice picture, but it even sits upright! The future is truly here.
Chinese TV manufacturer TCL has big dreams for the North American market — it wants to go toe to toe with major players like Samsung and LG. So this year, it'll be rolling out three models for the general public. And the one you should pay attention to is the P Series. (The P stands for picture, which, sure.) And that's because TCL is going to be selling one extremely high-performance set for just $600.
I got a chance to sit down and spend some time with a P Series set recently — and, man, this TV looks nice. The picture quality is stunning compared to past TCL sets, and frankly, looks just about as good as what a lot of bigger names are offering up. It's a 4K, which is pretty much par for the course these days, but it also supports the Dolby Vision HDR standard. HDR stands for high dynamic range, which allows for a display to show colors with a lot more contrast than was previously possible — you can watch nighttime scenes and still have bright streetlights that pop without crushing the blacks into a blur of nothing.
And it's the HDR that makes a difference. The arrival of HDR TVs marks the first time since consumer televisions switched from standard to high-definition that I've been able to see a real, objective difference in picture quality — even including super-high-resolution 4K screens. Dolby Vision ups the ante — it's able to handle the standard HDR10 format, but for shows and movies that support it, Dolby Vision embeds metadata about each particular scene, and adjusts your TV's settings on the fly for an even richer picture. Colors just pop more, and it's hard to go back to a set where you suddenly start noticing that every nighttime scene isn't really black, but just kinda gray.
There's also some behind-the-scenes wonkery going on — the TV itself has 72 distinct "contrast zones" that allow for one corner of the screen to become very, very dark, while another corner gets very, very bright. TCL's partnership with Roku also comes in handy — Roku has an exclusive channel set aside just for 4K streaming content that supports Dolby Vision HDR, for when you want to show off to a guest. And if you've happened to lay out cash for a PlayStation Pro or Xbox One S that also supports HDR, the TV will take full advantage. The bottom line is, this is the best picture I've seen on a TV that'll be available for under $1,000.
Don't get me wrong: I have no doubt that if you put the TCL up against Samsung's or LG's latest and greatest TVs, TCL wouldn't be able to compete. But those TVs will probably cost at least twice as much as what TCL is offering. Right now, TCL is attempting to make a name for itself in North America, and part of that strategy, apparently, is aggressively pricing TVs at what I have to imagine are extremely thin margins. It's all part of TCL's larger strategy to make itself into a known brand name in America — it's also why Grauman's Chinese Theatre in L.A. is now technically the TCL Chinese Theatre (though, don't worry, you can still have a drunk Charlie Chaplin impersonator aggressively try to take a picture with you).
The biggest endorsement I can give it? My LG TV from 2013 is currently dying — the power supply is on the fritz, meaning that sometimes the TV will turn off right in the middle of a particularly harrowing scene of The Handmaid's Tale. When the 55-inch, $600 P Series becomes available for preorder on Amazon on May 28, I'll be one of the first to place my order.
TCL's bid for fame in North America is your gain. If you've been thinking of upgrading your TV set, I recommend that you also take advantage.