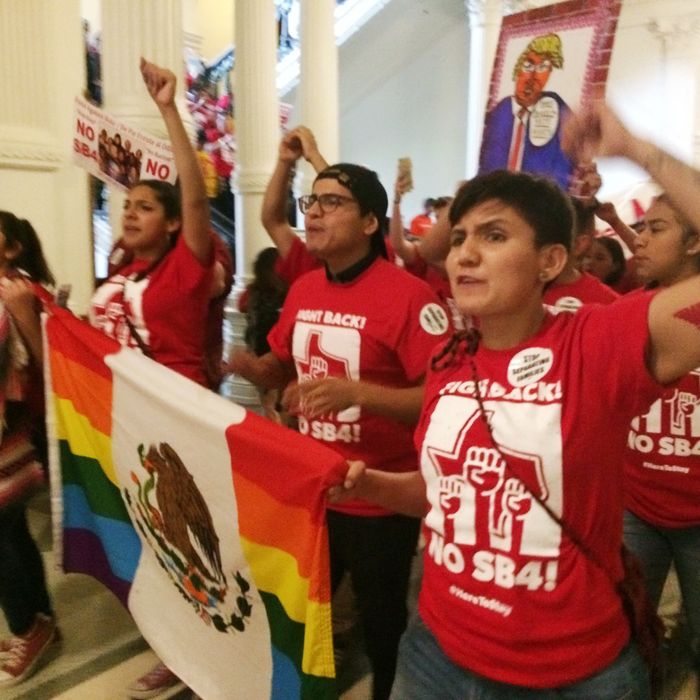 Demonstrators march in the Texas Capitol on Monday, May 29, 2017.
Photo: Meredith Hoffman/AP
Hundreds of people gathered in the public gallery of the Texas Capitol on Monday to protest a new law cracking down on "sanctuary cities," sparking a heated altercation — among lawmakers, not the demonstrators.
About 40 minutes into the protest, which occurred on the last day of the legislative session in Austin, the crowd began cheering loudly, chanting, "Here to stay!" and "Hey-hey, ho-ho, SB4 has got to go." State House leaders halted the session and asked state troopers to clear the gallery.
Representative César Blanco told the Texas Tribune that that's when Representative Matt Rinaldi, a Republican, came up to him and several other Democrats and said, "I'm glad I just called ICE to have all these people deported."
"He said, 'I called ICE — fuck them,'" added Representative Ramon Romero. He said Rinaldi also yelled "fuck you" at the Democratic lawmakers to the "point where spit was hitting" their faces.
Video shows the lawmakers yelling and pushing each other. During the scuffle, Rinaldi threatened to shoot Representative Poncho Nevárez.
"There was a subsequent exchange between my brother Poncho and Representative Rinaldi and there was a threat made from Rinaldi to put a bullet in one of my colleague's heads," Representative Justin Rodriguez said afterward. "That kind of threatening language, he needs to be called out and held accountable for."
On Facebook Rinaldi admitted to telling Nevárez he would shoot him. However, he said his Democratic colleague had threatened his life first, and he was saying he "would shoot him in self defense" if necessary. It's unclear if Rinaldi was armed, but as the New York Times notes, it's legal for legislators with state licenses to carry concealed firearms in the Capitol.
Nevárez told the Tribune that he put his hands on Rinaldi and told him to take his argument outside the chamber. "But was I going to shoot the guy? No," he said.
An ICE spokeswoman said she wasn't sure if agents were dispatched to the Capitol.
The new law, which goes into effect on September 1, requires local law enforcement to comply with requests from federal immigration officials. Local officials will also be allowed to inquire about the immigration status of anyone they detain.
"Matt Rinaldi gave the perfect example of why there's a problem with SB 4," Representative Romero said. "Matt Rinaldi looked into the gallery and saw Hispanic people and automatically assumed they were undocumented. He racially profiled every single person that was in the gallery today. He created the scenario that so many of us fear."