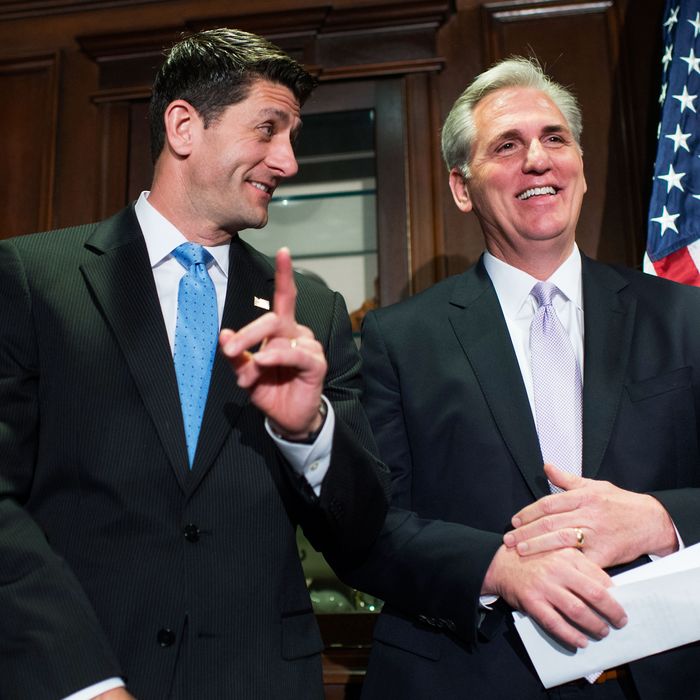 Paul Ryan and Kevin McCarthy want to keep Trump's Russia ties in the family.
Photo: Tom Williams/CQ-Roll Call, Inc.
Last night, the Washington Post reported on a 2016 conversation, between members of the House Republican leadership team, concerning Donald Trump's shady ties to Russia. "There's two people I think Putin pays: Rohrabacher and Trump," said Majority Leader Kevin McCarthy. "No leaks … This is how we know we're a real family here," replied House Speaker Paul Ryan.
It is possible, as the Post acknowledges, that the comments were made in jest. The transcript records laughter all around. But there are several reasons to suspect that McCarthy and Ryan were speaking honestly about their suspicion that Trump received money from Putin. First, spokesmen for Ryan and McCarthy insisted the comments were a joke only after they forcefully denied the conversation ever took place at all and then were told a recording existed. The fallback explanation has less presumptive credibility when the initial explanation has been debunked.
Second, while it is true that McCarthy and Ryan laughed during their conversation, people laugh all the time at statements they recognize as completely true. One of those times is when you're acknowledging that reality is bizarre. (The single most common object of this kind of uncomfortable, incredulous laughter in my experience has been Donald Trump.) Just before sharing his suspicion Trump gets money from Russia, the transcript shows that McCarthy mentioned the Russian hack of the Democratic National Committee:
McCarthy: The Russians hacked the DNC and got the oppo research they had on Trump. [laughs]
McCarthy wasn't laughing because he made up a funny joke about Russian hacking. He was describing an actual event that was true but so strange it was funny.
Third, the highly relevant context of the comments is that McCarthy grouped the possibility Trump got money from Russia along with the possibility that California Republican Dana Rohrabacher did so. "There's two people I think Putin pays: Rohrabacher and Trump [laughter] … Swear to God." The inclusion of Rohrabacher is significant. Rohrabacher is known in Congress for his fervent defenses of Putin and Putin's interests. This long Politico story from November describes some of Rohrabacher's positions, meetings with some of the shadiest members of Putin's inner circle, and, in particular, his dogged pursuit of one item of special priority to Putin. (Rohrabacher worked to remove the name of Russian lawyer Sergei Magnitsky, who was killed after exposing massive corruption by Putin, from a global anti-corruption law.) The subtext of the article — indeed, the only way to make sense of it — is that everybody on all sides believed Rohrabacher was getting money from Russia in some form or fashion. No other coherent explanation could be found for his dogged insistence on a cause that had no merit whatsoever from the perspective of the United States.
Fourth, while the evidence that Trump gets money from Russia is less clear than in the Rohrabacher case, there is plenty of evidence for it. Trump has all kinds of financial connections to Russia and the Putin regime. Numerous reporters have found that, after Trump's bankruptcies and other risky behavior made him untouchable for most standard lenders, he became dependent on Russia for capital. Just yesterday, The Wall Street Journal reported a new example: VEB, a Russian bank essentially controlled by Putin, financed Trump's hotel in Toronto.
And fifth, Trump, Ryan, and McCarthy are all cooperating to hide Trump's financial information. House Democrats have introduced bills to require the president to disclose his tax returns, which could reveal his financial relationship with Moscow. Ryan and McCarthy could approve those if they wanted to. Instead, they are supporting Trump by quashing them. Whether and to what extent Trump has gotten income from Putin cannot be known because Ryan and McCarthy want it not to be known.
"No leaks, all right?" Ryan says to his fellow Republicans in the recording. "This is how we know we're a real family here … What's said in the family stays in the family."
Was that statement a joke? It is hard to know for sure. What we do know is that, on the matter of Trump's financial ties to Russia, this is Ryan's actual position.