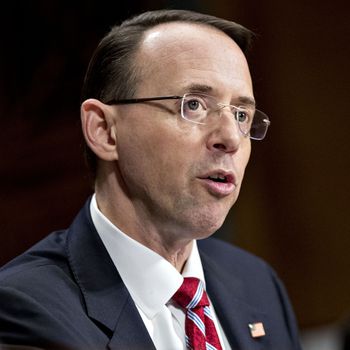 Deputy Attorney General Rod Rosenstein.
Photo: Andrew Harrer/Bloomberg via Getty Images
When President Trump abruptly fired former FBI director James Comey Tuesday evening, the justification did not come from him or Comey's boss, Attorney General Jeff Sessions. It came from newly confirmed Deputy Attorney General Rod Rosenstein, a Justice Department lifer who began his job as Sessions's second-in-command just two weeks ago.
In a memo sent to Sessions Tuesday, Rosenstein laid out the case against Comey, which hinged on the former FBI director's handling of the Hillary Clinton email investigation. "The FBI's reputation and credibility have suffered substantial damage, and it has affected the entire Department of Justice," Rosenstein wrote. "I cannot defend the director's handling of the conclusion of the investigation of Secretary Clinton's emails, and I do not understand his refusal to accept the nearly universal judgment that he was mistaken."
Trump cited Rosenstein's evaluation of Comey when he fired the now-former FBI director. But anyone who remembers Trump's previous statement about Comey's handling of the Clinton letter knows that the president was likely using Rosenstein's letter as cover.
Also worth noting: Rosenstein did not explicitly call for Comey's firing.
Still, Rosenstein's résumé made him particularly well suited to providing cover for Trump, whose real reason for firing Comey appears to be anger about the investigation into his campaign's possible Russia ties.
The former U.S. Attorney for the District of Maryland is known for his "no-nonsense leadership style and distaste for politics," The National Law Journal reported last month. President Obama recognized this and asked him to stay on the job. He was the only U.S. Attorney appointed by George W. Bush to serve under Obama, which Slate's Leon Neyfakh called "a merit badge that suggests he has been consistently even-handed in dealing with people from both sides of the aisle."
It's a reputation that has attached itself to Rosenstein like a very flattering glue. Practically every profile of him includes words like apolitical, principled, and independent. At his confirmation hearing in March, Maryland Sens. Chris Van Hollen and Ben Cardin called him, respectively, a "fair and focused administrator of justice" and a prosecutor who has conducted himself in "a totally nonpartisan, professional manner."
On April 25, the Senate voted to confirm Rosenstein by a 94–6 vote. Even those dissenting commended him. Connecticut Democratic senator Richard Blumenthal said Rosenstein was "committed to the rule of law," but he still voted against his confirmation because the senator wanted a promise to appoint a special prosecutor in the Russia probe.
Rosenstein's commitment to a trusted, independent Justice Department came through in his letter about Comey's handling of the Clinton case, which said the "FBI's reputation and credibility have suffered substantial damage" under Comey's leadership.
Trump got what he wanted out of Rosenstein's letter: a cogent argument for Comey's firing from a respected source. It hardly matters that Trump doesn't believe it himself.