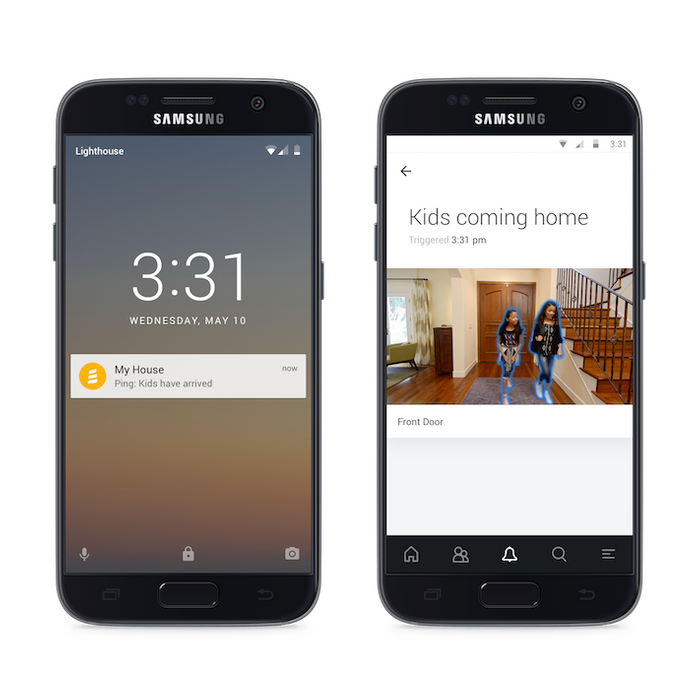 I have to be honest: When I was shown a demo of Lighthouse, a smart-home camera that uses computer vision and machine learning to keep tabs on what happens in your home, I felt mildly uneasy. Jessica Gilmartin, Lighthouse's general manager and CMO, was showing me a live video feed of her front door, on her phone. She then asked a quick question: "When did my kids leave this morning?" and Lighthouse quickly showed the video and time. "Did my dog get on the couch?" Boom, the video was playing. It was very impressive. It also felt a little Black Mirror–ish.
Lighthouse is the brainchild of Alex Teichman and Hendrik Dahlkamp, who had previously spent years working on computer perception. (They were part of the Stanford University team that built Stanley, the first self-driving car to complete the DARPA challenge, back in 2005, and were instrumental in developing the tech that eventually became Google Street View.) Their years working on computer vision show — Lighthouse comes equipped with a camera and a 3-D sensor that allow it to pull off some truly impressive tricks. It can recognize each member of your family, differentiate among pets, children, and humans, and can respond to questions asked in natural language. In effect, any room with a Lighthouse running in it is a place where you'll always know exactly what's going on.
The benefits for busy parents are obvious. The peace of mind of knowing that your kids are home from school on time would calm plenty of frayed nerves. "Lighthouse shows you three things," says CEO Teichman during the demo. "What's happened, what's happening, and what's happening that shouldn't be happening." So if there's suddenly a person in your home that Lighthouse's AI doesn't recognize, it'll ping your phone. If it's someone who shouldn't be there, you can sound a siren on Lighthouse and call the police. You can even scrub through a full day, seeing as the people (and animals) in your family enter and leave a room.
Lighthouse works on a subscription model, with a single Lighthouse unit running $399 for a year of Lighthouse Intelligence, $499 for three years of Lighthouse Intelligence, and $599 for five years of Lighthouse Intelligence. (If you run out of the prepaid plan, the service costs $10 a month.) If you buy a three-pack of Lighthouse cameras so you can cover multiple rooms, they'll knock $100 off the purchase price. It is available for preorder now and ships in September.
When I started pressing on privacy concerns, Teichman was quick to answer (selling a product that provides a live video feed of your own home probably means he gets to answer this question a lot). Lighthouse uses AES-256 encryption, generally accepted as uncrackable (and much better than your typical IoT device). Your video is stored on Lighthouse servers, but only Lighthouse customers can view their video — Lighthouse employees and partner companies can't. (There is an option to opt in to help train Lighthouse's AI even further, if you're in the mood to help a computer get smarter, I guess.)
Which is great! But there's still a part of me that thinks putting in a Lighthouse unit would be a bit like me invading my own family's privacy. There's something about installing an AI-enhanced panopticon in my home that makes me feel … unsettled. Maybe it's just "future shock." Maybe I haven't fully digested the idea that privacy, for all intents and purposes, is dead. Maybe it's just that I don't have kids or pets, and really don't care what time my wife leaves the house or gets home each evening (sorry dear, but it's true).
But Teichman did outline something Lighthouse could evolve into that maybe would get me over my heebie-jeebies. One of the more helpful things phone assistants have done over the past four or five years isn't gaining voice recognition — it's the small ways my phone anticipates what I'll need. It's how my phone knows I'll be showing my bus pass around 6:40 every day, or that the subway line I regularly take is on the fritz, or that if I open up my phone at 11 p.m. I'm probably either opening up Twitter or my Kindle app. Smart homes have a lot of promise, but they also require a lot of work; you need to program them to do all those neato lighting tricks and keep the thermostat right in everyone's comfort zone. Something like Lighthouse that could accurately know who is in my house and where they are — and automatically adjust things accordingly — could one day be extremely useful. For right now? It's a very cool piece of tech; I just wonder how many people want an AI camera watching over their family.