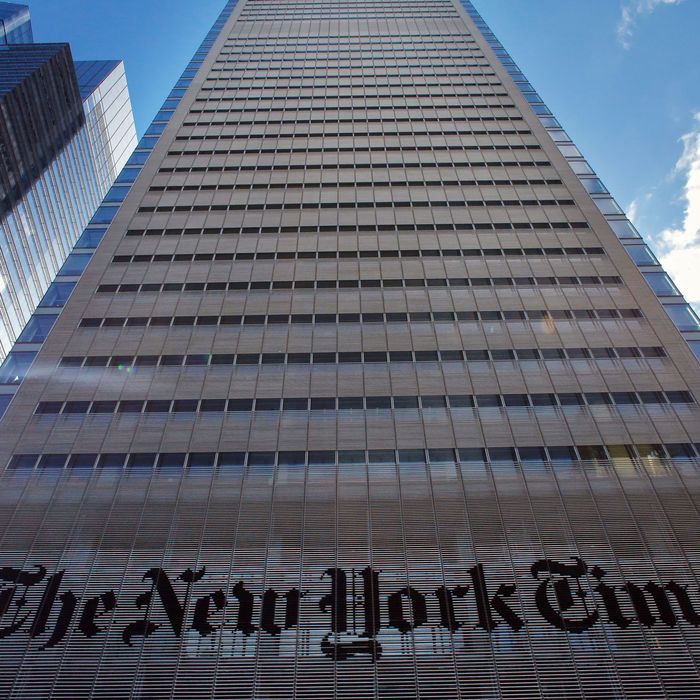 The Times is a-changin.
Photo: KENA BETANCUR/AFP/Getty Images
Elizabeth Spayd, the sixth public editor for the New York Times, will also be its last. As the Huffington Post's Michael Calderone reports, the paper has announced plans to eliminate the position, which was created in the aftermath of the Jayson Blair plagiarism scandal and was first held by Daniel Okrent.
A former editor at the Washington Post and Columbia Journalism Review, Spayd started working as the paper's sixth public editor last summer. In her first column, she laid out her mission: to push the Times toward treating its "audience like people with crucial information to convey — preferences, habits and shifting ways of consuming information." She wanted the paper to be better at giving people what they want, instead of giving them what editors and writers think they need.
Spayd succeeded at bringing attention to the concerns of the Times readers, but her laser focus on that mission was the source of much criticism. Here's what Slate's Will Oremus wrote in April:
But if we've learned one big lesson from Spayd's work so far, it's this: Readers are quite often wrong. Of course the public editor should listen to them and take them seriously. The real challenge, though, is to distinguish between their wishes and their true interests, to understand not only where those overlap but where they diverge, and to recognize which should influence the paper's editorial decisions and which should not.

At that difficult task, Spayd has repeatedly failed.
The result was a spate of widely criticized columns taking reporters to task for dumb tweets, reaming the sports page for prioritizing features over box scores, and defending false equivalence in political journalism.
Though the Times public editor is no more, the paper has recently created something called the "Reader Center," billed as a way to "build even stronger bonds with our readers." It will be run by editor Hanna Ingber, not Spayd, whose last day at the paper is Friday.