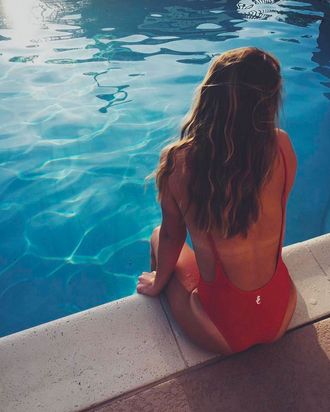 If I never see this swimsuit again, it'll be too soon.
Photo: @sunnycoclothing/Instagram
Have you seen this swimsuit? It's red. It's low in the back and emblazoned with a tiny, white seahorse. It and the extremely tan-lined model wearing it are haunting my dreams. Earlier this week, Sunny Co. Clothing promised a free swimsuit — "free" meaning free, save the cost of shipping and handling — to anybody who reposted their Instagram photo of the swimsuit and tagged the company in it within 24 hours. It worked. The company's Instagram followers spiked, and if you float in certain circles on Instagram — namely, if you follow enough young women — you were likely inundated with that red swimsuit over and over again.
As for the company behind the gimmick, before the 24-hour period was up, Sunny Co. Clothing posted a second Instagram of the red swimsuit. In it, they stipulated that the company had the "right to cap the promotion if deemed necessary." They also posted the promo code you need to get the suit: "SUNNY." (Points to the extremely creative team over there at Sunny Co. Clothing.) Which means, not only did people not actually need to post the photo — which essentially provides free advertising for the company — to get the deal, chances are that a good many of the folks who shared the photo won't be getting their "free" ($12) swimsuit after all. Select All reached out yesterday to get more information, but Sunny Co. Clothing has yet to respond to our request for comment. Meanwhile, BuzzFeed reports that some people have been charged full price — $64 for the suit, plus the cost of shipping and handling — an issue the company has yet to address. But, hey, at least we got some good memes out of the whole ordeal. And unless you're following anybody from the cast of the new Baywatch, your Instagram feed should return to being a red-swimsuit-free zone soon enough.