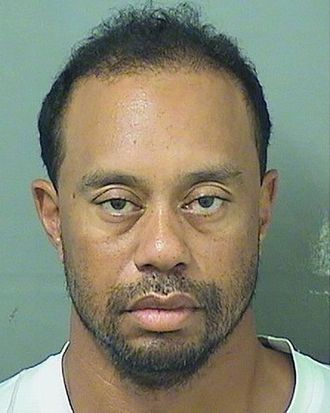 Mug shot.
Photo: Palm Beach County Sheriff's Office
Cops found Tiger Woods asleep at the wheel of his black Mercedes, parked at the side of the road early Monday morning. The pro golfer, who was alone and strapped into his seat belt, "had to be woken up," according to the police report about his arrest in Jupiter, Florida. "The vehicle was running," the report details, "and brake lights were illuminated as well as the right blinker flashing."
Police cited Woods with driving under the influence and improper parking after discovering the pro golfer after 2 a.m. Monday. Police, after waking him up, described Woods's speech as "slow, sluggish," and "very slurred." He appeared disoriented, first telling cops that he had come from a golfing tournament in Los Angeles and that he didn't know his location. He later changed his story, according to the report, asking how far he was from his home.
Woods failed the field sobriety test, with cops noting that it was "hard for him to walk" and "to keep his eyes open." Woods was able to recite the alphabet backward — though cops had to explain the instructions more than once: Woods initially believed he was supposed to "recite the entire national anthem backwards." But police described him as cooperative "as much as possible." The golfer later submitted to a urine and Breathalyzer test. He registered a blood alcohol level as a 0.00 on the Breathalyzer.
The Breathalyzer results appear to confirm Woods's statement that alcohol wasn't involved; he blamed an "unexpected reaction to prescribed medications" for the Monday incident. "I didn't realize the mix of medications affected me so strongly," he said in statement, where he apologized for what happened and took "full responsibility" for his actions. The injury-plagued Woods underwent back surgery in April and afterward he reported to fans that he felt better "than he had in years."
Woods is due back in court for his DUI citation on July 5, according to CNN.