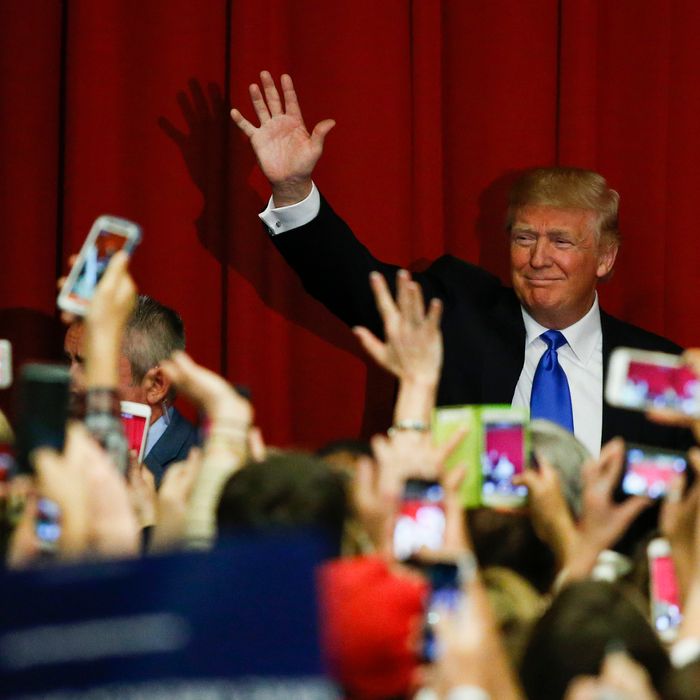 You're welcome, America.
Photo: EDUARDO MUNOZ ALVAREZ/AFP/Getty Images
There's plenty to not like about 2017, but there's no denying that we here on the internet have been bestowed with many glorious gifts. There was the orb. There was the sea lion snatching the girl into the water. There was the BBC dad. There were all the beers held while others tried to top those memes.
And then, just past midnight on May 31, President Donald Trump gave us the most yuge gift of all: #covfefe.
"Despite the constant negative press covfefe," he tweeted at 12:06 a.m.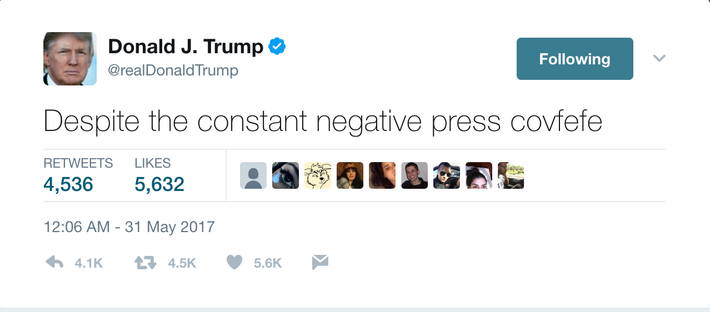 The tweet — which, again, was sent by the current president of the United States of America — stayed up until just before 6 a.m. Twitter, naturally, had a field day. And according to Trump's defenders, that's all just part of his master plan.
Kayleigh McEnany, a CNN contributor and loyal defender of Trump, tweeted:
She then suggested it was a product of his autocorrect:
She added:
Mike Cernovich, a Trump supporter who rose to prominence as a part of the alt-right (which he's since distanced himself from), said:
Another alt-right figure, Lauren Southern, suggested #covfefe was just a clever troll:
Shane Rider, of the #slavright, signed off for the night by saying:
Tomorrow will likely bring new horrors, but at least — thanks, intentionally or not, to Trump — we will always have covfefe.