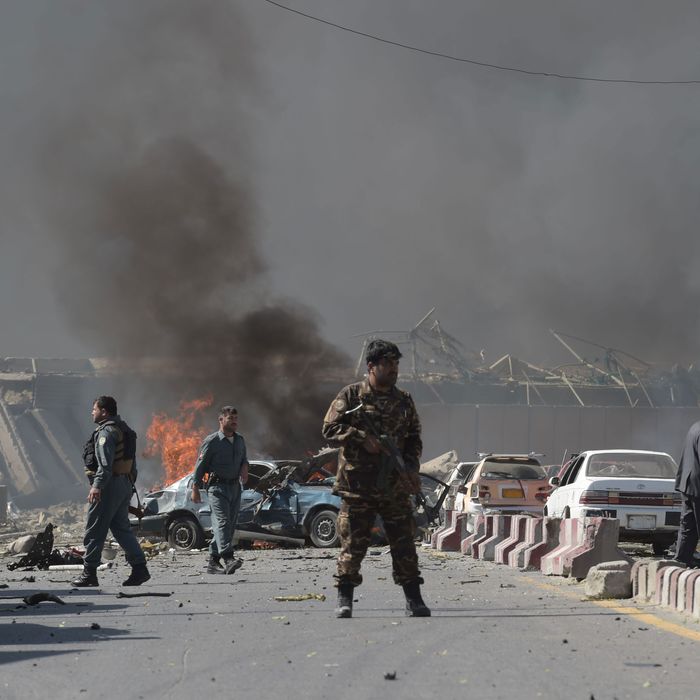 An Afghan security force member stands at the site of a car bomb attack in Kabul on May 31, 2017.
Photo: Shah Marai/AFP/Getty Images
A suicide truck bombing in the center of Kabul has left more than 80 dead and more than 460 wounded. The scene of utter carnage unfolded in one of the most heavily guarded centers of the city, near the presidential palace, international embassies, and the NATO headquarters for Operation Resolute Mission, reports CBS.
The blast erupted during the morning rush hour, leaving a gigantic crater more than a foot deep at the site of the bombing and the area smoking for hours. Windows nearly a mile away were shattered and blown out of their frames, witnesses say. Many of the victims appear to be civilians, including women and children. Officials say the death toll is expected to rise.
The German embassy, in close proximity to the detonation site, sustained serious damage, according to officials. Several German embassy workers were hurt, though the extent of their injuries is unknown. One embassy guard, an Afghan native, was reportedly killed. Eleven U.S. contractors were also hurt, though the injuries don't appear to be life-threatening, reports NBC News.
A spokesperson for the Taliban has denied responsibility for the massacre. ISIS-K, the branch of the terror group active in Afghanistan, has committed some of the most deadly attacks of late, including a suicide bombing during a peaceful protest in Kabul last July that left 80 dead. It is likely the toll in Wednesday's blast will surpass that bloody day, making this the deadliest single attack in Afghanistan in years.
This post has been updated with additional details.