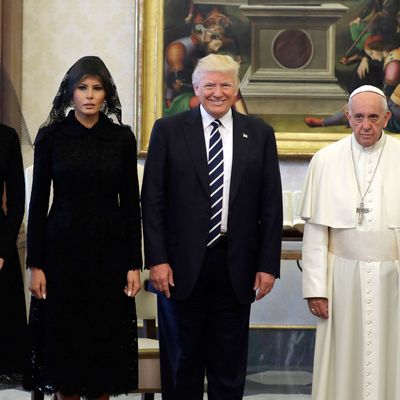 One of these things is not like the other.
Photo: Evan Vucci/AFP/Getty Images
This week, Donald Trump met with Pope Francis at the Vatican. It looked like everybody had a blast. Pope Francis jokingly asked Melania Trump what she feeds her husband. Trump gave His Holiness a collection of writings by Dr. Martin Luther King Jr. The visit was, to quote Trump,
"fantastic." And then, there was the photo op. Trump, his wife, and his daughter Ivanka, all posed for a picture beside Pope Francis. And while we can't be certain the photographer wasn't standing behind the camera saying "everyone whose last name is Trump, please smile …. everybody else look miserable as heck," that's exactly the result. Which means, naturally, it's time for some memes.
Though it seems like Pope Francis, not the memes, got the last, um, laugh this time around. He gifted Trump with copies of several of his own writings, including one on caring for the environment. Amen, Pope Francis. Amen.