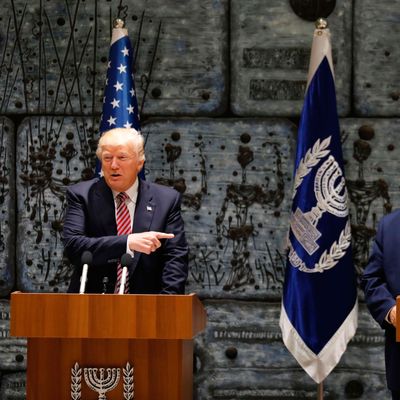 Trump and Rivlin.
Photo: Gali Tibbon/AFP/Getty Images
President Trump arrived in Israel Monday, after taking the first-ever open, direct flight from Saudi Arabia to the Jewish state. The First Family was met on the tarmac by Benjamin Netanyahu and a slew of Israeli officials — a few of whom had (reportedly) tried to skip the ceremony, before the prime minister browbeat them into compliance.
"We have before us a rare opportunity to bring security and stability and peace to this region, and its people, defeating terrorism and creating a future of harmony, prosperity, and peace," Trump said after greeting Bibi. "But we can only get there working together. There is no other way."
Ironically, Trump's two-day visit to the core U.S. ally appears more fraught with diplomatic tension than his visit to the Muslim nation he'd accused of orchestrating the 9/11 attacks. The president arrived in the Jewish state shortly after sharing highly sensitive Israeli intelligence with Russia's foreign minister, jeopardizing a key Israeli intelligence source for no discernible strategic purpose.
For some in Israel's right-wing government, resentment over this blunder is compounded by Trump's failure to demonstrate total fealty to Likud's party line. During his campaign and transition, Trump defended Israel's West Bank settlements and suggested that he would move the U.S. embassy from Tel Aviv to Jerusalem. But since taking office (and, presumably, realizing that such moves wouldn't sit well with America's Arab allies), Trump has requested a freeze in new settlement projects, kept the embassy in place, and refused to allow Israeli officials to accompany him during his upcoming visit to the Western Wall, so as not to tacitly affirm Israel's contested claim to ownership of that site.
What's more, the president's desire to leave Israel with some testament to his famous deal-making skills forced some contentious conversations among Netanyahu's cabinet, as the Times reports:
Mr. Netanyahu also had to wrestle much of Sunday in a closed cabinet meeting with right-wing ministers of his coalition to win approval of even modest gestures meant to encourage the Palestinian economy and ease conditions in the West Bank and elsewhere.

The confidence-building measures were aimed as much at convincing Mr. Trump of the Israelis' commitment to seek an agreement as they were intended for the Palestinians. Mr. Trump has said that he wants to seal the "ultimate deal" to resolve the decades-old Israeli-Palestinian conflict, an ambitious goal that has so far eluded two generations of American presidents and numerous international mediators.
The president added insult to these diplomatic injuries, by canceling a visit to the ancient fortress of Masada, after learning that he would not be able to land his helicopter on top of it, and by refusing to spend more than 15 minutes at the Holocaust museum Yad Vashem.
Nonetheless, the New York Times reports that Israel views Trump as "as a welcome change from Mr. Obama," for much the same reason that the Saudis prefer the Islamophobic demagogue to his predecessor: Trump seems much more interested in war with Iran.
"We just got back from the Middle East. We just got back from Saudi Arabia," Trump said, before his meeting with Israeli president Reuven Rivlin. "And we were treated incredibly well. And there's tremendous well, really good feeling towards Israel. And I will say one of the things … what's happened with Iran has brought many other parts of the Middle East towards Israel."
Uniting Israel and the Sunni Muslim world around their mutual antipathy for the Shiite-led Iran is a cornerstone of the administration's Middle East policy. According to the Times, the White House hopes to leverage such unity to advance the cause of peace between the Israel and Palestine, deploying an "'outside-in' strategy of enlisting Arab neighbors to help resolve the long-running dispute between Israelis and Palestinians."
Trump will meet Palestinian Authority president Mahmoud Abbas Tuesday in the West Bank. There, complaints with American leadership have less to do with symbolic slights than with our nation's financial and diplomatic support for a military occupation that many observers — including senior Israeli officials — have likened to apartheid.

A mass hunger strike of Palestinians in Israeli jails is entering its sixth week. During a protest in support of that strike in the West Bank last week, an Israeli settler shot into the crowd of demonstraters, killing a 23-year-old Palestinian.