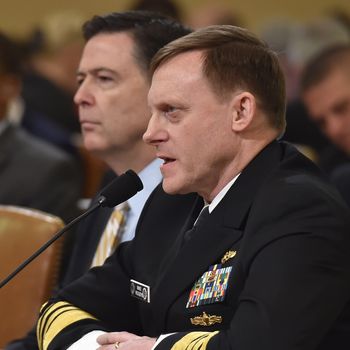 FBI Director James Comey and National Security Agency Director Mike Rogers testify before Congress about Russia's election meddling on March 20, 2017.
Photo: NICHOLAS KAMM/AFP/Getty Images
Two weeks after the firing of FBI Director James Comey, we're seeing near-daily reports on how President Trump may have engaged in obstruction of justice (and sometimes these revelations come from the president himself). Monday's dispatch comes from the Washington Post, which reports that Trump called two of the nation's top intelligence officials — Dan Coats, the director of National Intelligence, and Admiral Michael Rogers, the director of the National Security Agency — and urged them to publicly deny that there is any evidence of collusion between his campaign and the Russians. The requests came in the days after Comey publicly confirmed that the FBI was probing the Trump-Russia connection in his testimony before the House Intelligence Committee on March 20.
Both Coats and Rogers found Trump's request inappropriate and refused to comply, according to two current and two former U.S. officials. There's reportedly "an internal memo written by a senior NSA official" that describes Trump's conversation with Rogers. It's unclear if Coats wrote a similar memo, but NBC News reports that the two officials "also exchanged notes about their conversations with the president."
Like the memo Comey wrote describing a request from Trump to end the FBI's investigation into former National Security Adviser Michael Flynn, any memos written by Coats and Rogers would be available to former FBI Director Robert Mueller, the special counsel appointed last week to probe the Trump-Russia matter.
If true, Trump's request suggests that at the very least, he does not understand how the intelligence community works. It's possible that the two intelligence chiefs have not been fully briefed on the FBI's probe, and Rogers reportedly explained to the president that he can't publicly comment on an ongoing investigation, or classified matter.
It's not clear how Trump phrased his requests. One former senior intelligence official told the Post, "The problem wasn't so much asking them to issue statements, it was asking them to issue false statements about an ongoing investigation." However, another official told NBC News he wasn't asking anyone to lie:
"I don't think (Trump) ever asked somebody to say something that they didn't believe was true," the former official said.

He said the two officials were "sufficiently concerned that it was an extraordinary thing that they took care to write it down, but not sufficiently concerned that they reported it."
Either way, sources said Coats and Rogers saw it as an attempt to "muddy the waters" surrounding the FBI probe, and to use other intelligence agencies to tarnish the bureau's credibility.
Vox's Dylan Matthews argues that this alleged effort to get the DNI and NSA to discredit the FBI — combined with Trump's other efforts to rein in the Russia probe — is "at least as outrageous" as President Nixon's "smoking gun" tape. The release of that tape, in which Nixon agreed that his staffers should try to get top CIA officials to shut down the FBI's Watergate investigation, led to his resignation days later. Matthews writes:
In Nixon's case, what crossed the line, moving top leaders from his own party to go to the White House and tell Nixon that his presidency was over, was Nixon's attempt to hamper the FBI's investigation into Watergate.

And we now know that before Trump fired FBI Director James Comey, he asked Comey to stop investigating former National Security Adviser Flynn. This is exactly the same kind of FBI investigation interference that forced Nixon out of the White House and shocked his Republican allies out of defending him.

What's more, we now know that Trump asked the Director of National Intelligence and the director of the National Security Agency to publicly deny the existence of collusion between his campaign and Russia — an attempt at interference in the intelligence community that calls directly to mind Nixon's attempt to use the CIA to scuttle an FBI probe.

This is not a "where there's smoke there's fire" situation. We don't need to know much more to know that the president has committed conduct that was once thought sufficient to warrant removal from office.
There is one key difference: So far, we only "know" these things from anonymous reports, as the White House emphasized in its statement on the matter.
"The White House does not confirm or deny unsubstantiated claims based on illegal leaks from anonymous individuals," a White House spokesman said. "The president will continue to focus on his agenda that he was elected to pursue by the American people."
But that may soon change. Coats and Rogers are set to testify before the House and Senate Armed Services Committees on Tuesday, and they'll likely be called before Congress again to discuss Trump's alleged request specifically. Representative Adam Schiff, the ranking Democrat on the House Intelligence Committee, said the Post report is "yet another disturbing allegation that the president was interfering in the FBI probe" and Congress "will need to bring the relevant officials back to testify on these matters, and obtain any memoranda that reflect such conversations."
What it would take for Republican lawmakers to decide that Trump has committed obstruction of justice is another question.