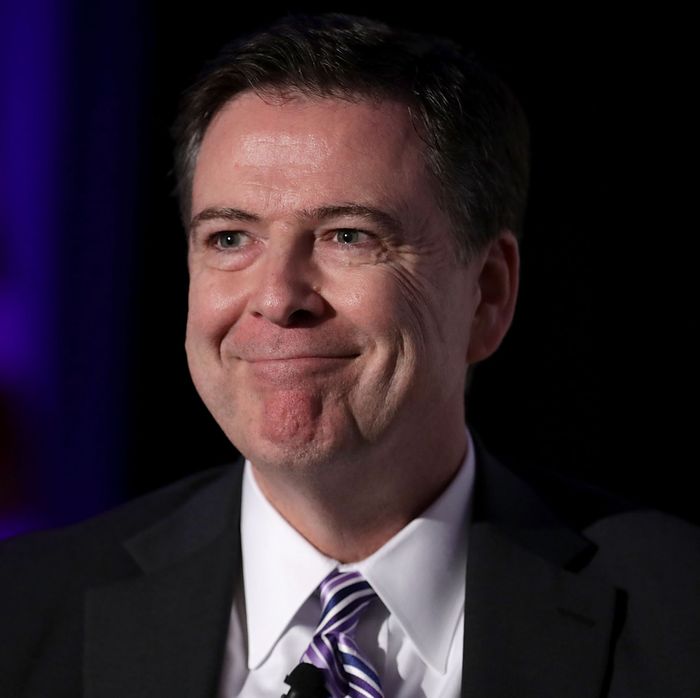 Oh, great, he's tweeting about me.
Photo: Chip Somodevilla/Getty Images
Still reeling from the loss of Bill O'Reilly and his wife's sub-fave hours earlier, President Trump soothed himself on Tuesday night by indulging in his favorite hobby: rehashing his election win.
Trump was responding to Hillary Clinton's claim on Tuesday that she would be president today if the election had been held on October 27.
"I was on the way to winning until the combination of Jim Comey's letter on October 28 and Russian WikiLeaks raised doubts in the minds of people who were inclined to vote for me but got scared off — and the evidence for that intervening event is, I think, compelling [and] persuasive," she told Christiane Amanpour at a Women for Women International event.
It isn't surprising that Trump tweeted about Clinton — she and Amanpour actually predicted that he would — but it is interesting that he dragged FBI Director James Comey into his latest Twitter tirade. It's not entirely clear what "bad deeds" Trump is referring to, but one could argue that Trump got the "free pass" when Comey chose to publicly discuss the investigation into Clinton's emails, but not the probe of the Trump campaign's possible Russia ties.
Despite what Trump's tweet suggests, the Russia probe hasn't been dismissed as "fake news" pushed by Democrats. Comey is set to testify before the Senate Judiciary Committee on Wednesday, and questions about Trump's possible ties to Russia are expected to dominate the hearing.