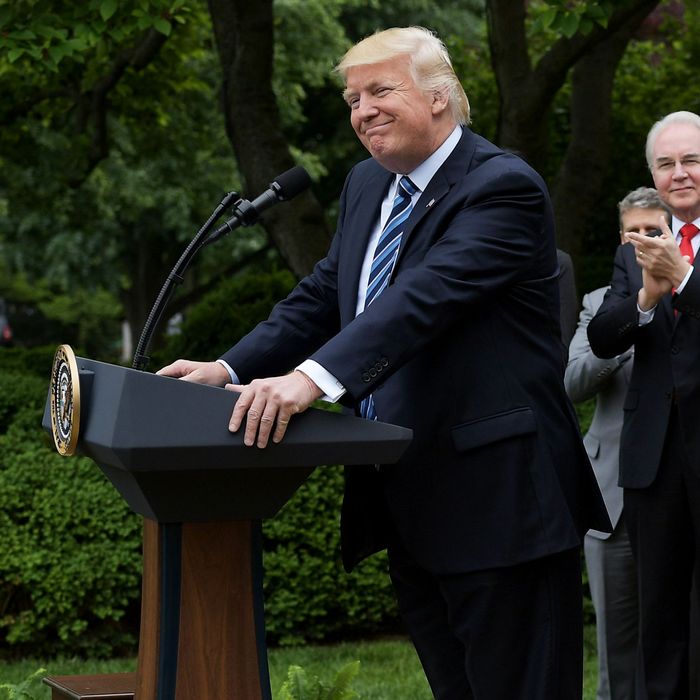 President Donald Trump speaks in the Rose Garden of the White House following the House vote on the GOP health-care bill on Thursday.
Photo: Mandel Ngan/AFP/Getty Images
President Donald Trump was originally supposed to arrive in New York City this afternoon for a 4 p.m. meeting with Australian Prime Minister Malcolm Turnbull, but he apparently had to rearrange his schedule to squeeze in a White House Rose Garden celebration to mark the very narrow passage of the American Health Care Act, a.k.a. Trumpcare, through the House of Representatives. The bill, which passed in a 217 to 213 vote, still must get through the much more moderate Senate, and if it does that, be signed into law. But don't call this celebration premature, or anything.
A triumphant Trump stepped up to the podium after a brief introduction from Vice-President Mike Pence ("this is the beginning of the end of Obamacare"), with House Republicans fanned out behind him. Trump turned to his fellow Republicans and made a victory sign, waving his arms like a maestro, trying to egg on the applause. "What a great group of people and they're not even doing it for the party, they're doing it for this country because we suffered with Obamacare," Trump said. "I will say this, that as far as I am concerned, your premiums they're going to start to come down, we're going to get this passed through the Senate, I feel so confident."
"Make no mistake. This is a repeal and replace of Obamacare. Make no mistake about it. Make no mistake," Trump declared to a smattering of applause. "I think most importantly, yes, premiums will be coming down; yes, deductibles will be coming down; but more importantly, it's a great plan, and ultimately, that's what it's all about."
Then he took some time to really savor the moment:
Trump gave a nod to the actual House that passed the bill, referring to them at some point as "talented people." Trump even thanked House Speaker Paul Ryan for his "hard work," adding that he's been "treated very unfairly, but it no longer matters because we won."
Ryan touted the bill as making health care "more affordable" and shifting power to the people and the states. He also complimented Trump, saying he had never "never seen engagement like this."
Majority Leader Kevin McCarthy, Whip Steve Scalise, and other GOP members addressed the crowd. But just as House Republicans and Trump were getting ready for their victory lap, Senate Majority Leader Mitch McConnell issued a much more tempered statement on Trumpcare's passage.