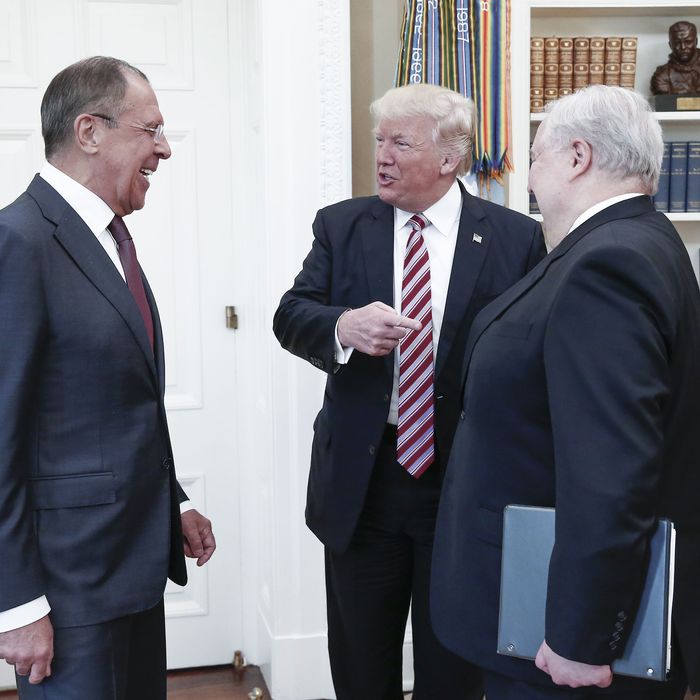 Lavrov, Trump, and Kislyak.
Photo: Alexander Shcherbak/TASS
During a meeting with Russian officials in the Oval Office earlier this month, President Trump said firing the "nut job" James Comey would relieve pressure from the FBI's investigation into his ties to Russia, the Times reports.
"I just fired the head of the FBI. He was crazy, a real nut job," Trump reportedly told Russian Foreign Minister Sergey Lavrov and Ambassador Sergey Kislyak. "I faced great pressure because of Russia. That's taken off."
No wonder the meeting was supposed to be off limits to the press.
The Times got that bombshell of a quote from "notes taken from inside the Oval Office," which were read to reporters by a U.S. official and confirmed by another. So, naturally, the White House responded by complaining about leaks. "Once again, the real story is that our national security has been undermined by the leaking of private and highly classified conversations," Sean Spicer said in a statement.
Notably, Spicer didn't deny the "nut job" quote. Instead, he offered up yet another explanation for why Comey was fired. "By grandstanding and politicizing the investigation into Russia's actions, James Comey created unnecessary pressure on our ability to engage and negotiate with Russia," Spicer's statement said. That's now the third reason offered for Comey's firing. The first was his handling of the Hillary Clinton email investigation and the second was Trump's saying he fired Comey because of "this Russia thing with Trump and Russia."
Following the publication of the Times story, the growing accusations of obstruction of justice against Trump grew some more.
In other breaking Russia news, the Washington Post reported Friday that the FBI's Russia's probe has "identified a current White House official as a significant person of interest." The paper's source did not identify the person other than saying it is a senior White House official close to the president.