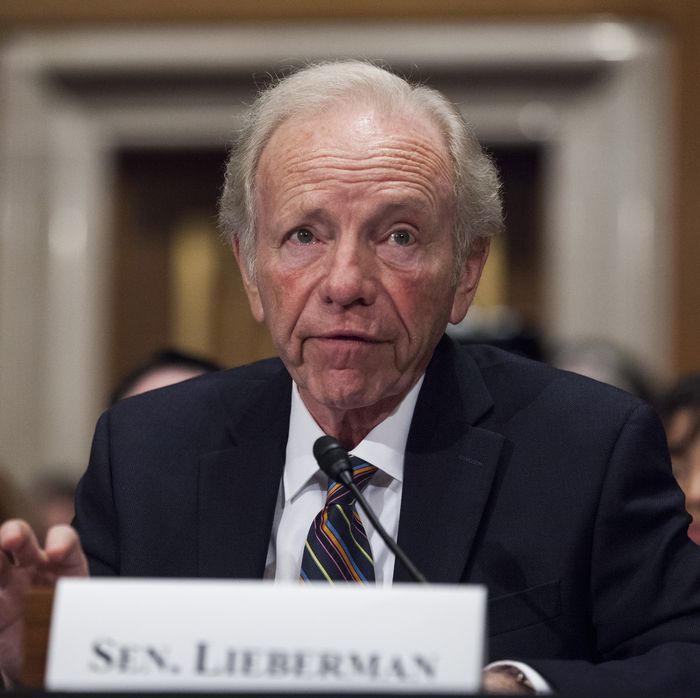 Lieberman's weeklong dream of being America's most unlikely FBI director may be over.
Photo: Zach Gibosn/Bloomberg via Getty Images
Former senator Joe Lieberman is reportedly President Trump's top pick to replace James Comey as FBI director, possibly because Trump understands that he needs someone who's seen as a bipartisan. On paper, Lieberman appears to fit the bill, as he was the Democratic vice-presidential nominee in 2000 before shifting to the right and backing Republican John McCain in the 2008 presidential race.
However, Democratic senators have come out against Lieberman, mostly because he has no relevant qualifications for the position, and partly because his selection would raise a conflict of interest. Since leaving office in 2013, Lieberman has worked as senior counsel at the New York–based law firm Kasowitz, Benson, Torres & Friedman, which has frequently represented Trump. Per Newsweek:
The firm has represented Trump in matters for years. Last October, Marc Kasowitz, a partner at the firm, threatened The New York Times with legal action after the newspaper published pages from Trump's 1995 income tax return. Later that month, Kasowitz wrote a letter to Times demanding the retraction of an article about two women who claimed Trump had "touched them inappropriately." The Times did not retract the article.

Kasowitz's relationship with Trump goes back further. In 2006, Trump had the lawyer sue an author who had written that Trump was worth less than $1 billion. The lawyer has also reportedly helped Trump keep divorce records sealed, helped with a case against Trump University and sued Hong Kong businessmen on Trump's behalf regarding a New York City property. The Wall Street Journal has called Kasowitz "Donald Trump's go-to guy for his toughest legal battles." David Friedman, another partner at the firm, has represented Trump in bankruptcy proceedings.
Some have argued this shouldn't be an issue, since Lieberman didn't work on any Trump-related cases, and the firm employs around 270 lawyers. However, on Tuesday Trump made the ethics concerns about Lieberman's Kosowitz connection even more relevant. According to the Washington Post, he's tapped Marc Kasowitz to act as his private attorney in matters related to the probe of his campaign's alleged dealings with Russia.
As the Post explained last week, the appointment of former FBI Director Robert Mueller as special counsel in the Trump-Russia probe created a more urgent need for the president to hire an outside legal team, as his predecessors have done in similar situations:
Trump's need for a private attorney is viewed as a high priority because he so far has been relying on government lawyers, including his White House counsel, who could eventually be called to testify about their private conversations with him. Such conversations are not considered "privileged," unlike what Trump experienced as a corporate executive working with hired legal counsel.
Hiring Kasowitz is a "characteristically unorthodox move" by Trump, as National Law Journal put it. He's known for "handling a mix of complex, high-stakes civil disputes in New York's state courts," so he'd likely need to bring on other attorneys with more experience in criminal defense and constitutional issues. There are also other potential conflicts of interest. Trump just made Kasowitz partner David Friedman the U.S. ambassador to Israel. Kasowitz also represents OJSC Sberbank of Russia, the nation's largest bank, which is currently facing charges in U.S. federal court for allegedly conspiring with granite company executives to raid a competitor's assets.
But none of that compares to the prospect of Trump receiving legal advice on the Russia probe from the former boss of the man leading the investigation. That scenario is so outrageous that it suggests the pushback against Lieberman prompted Trump to select one of the other three finalists for FBI director.
Then again, we're only discussing this because Trump fired Comey after he revealed he was looking into his campaign, then suggested on several occasions that it had everything to do with the Russia probe. Anything is possible.