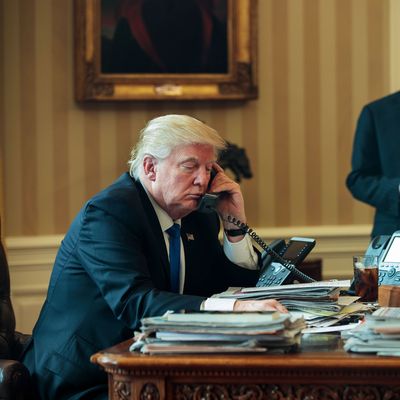 "We really need to find a more dangerous way to communicate."
Photo: Drew Angerer/Getty Images
Jared Kushner reportedly proposed using Russian equipment to set up a back channel with the Kremlin, but apparently there was a far simpler and equally dangerous solution: passing President Trump's cell-phone number to Vladimir Putin.
While not as iconic as the MAGA hat, Trump's cell phone is his most problematic accessory. Though he won partly by raising concerns about his opponent's reckless use of private communications devices, Trump fought to keep his old Android phone after taking office. Axios reported in February that he was using it as a pager, letting friends call him on the old number, then dialing them back on his Secret Service–approved line if he wanted to talk.
Now the Associated Press reports that he's expanded that exclusive circle to include a number of world leaders. Former and current U.S. officials said he urged Mexican president Enrique Peña Nieto, Canadian prime minister Justin Trudeau, and French president Emmanuel Macron to call him on his cell phone, rather than using a secure line. Trudeau is said to be the only one who's taken him up on the offer so far.
Trump has switched between several devices in recent months, and it's not clear which one he's using to chat with fellow leaders. The AP's headline says he's using a "private" cell phone, but reportedly ditched his old Android for a (presumably modified) iPhone back in March. Last week Axios reported that he was using an iPhone with only one app: Twitter.
Even if Trump is chatting with U.S. allies on his government-issued cell phone, not his old private line, that presents a huge problem. "If you are speaking on an open line, then it's an open line, meaning those who have the ability to monitor those conversations are doing so," Derek Chollet, a former Pentagon adviser and National Security Council official, told the AP. "If someone is trying to spy on you, then everything you're saying, you have to presume that others are listening to it."

It looks like the report might have prompted someone in the White House to finally pry President Trump's cell phone out of his hands. A few hours after the story was published, Trump tweeted this: