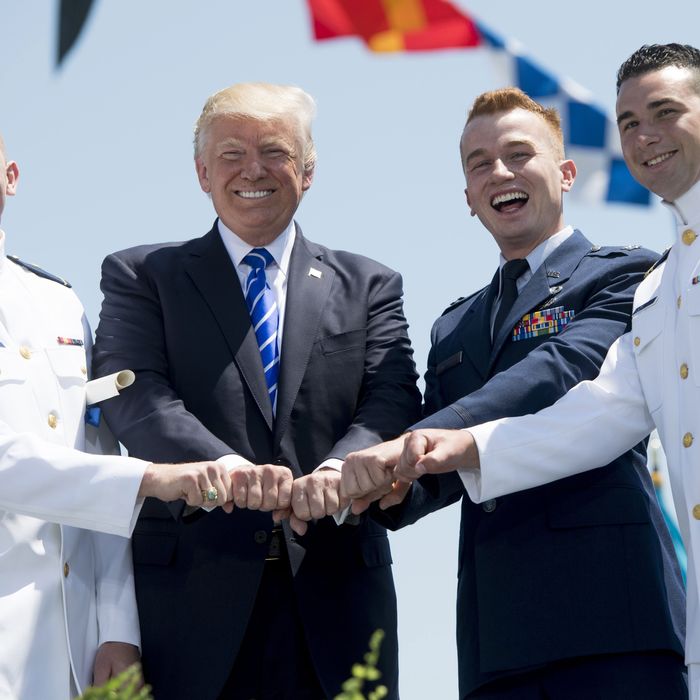 "I've accomplished a tremendous amount in a very short time as president."
Photo: Saul Loeb/AFP/Getty Images
President Trump on Wednesday delivered his first commencement address to the graduating class of a military academy, and while he hit the Coast Guard cadets with the customary platitudes — "Never, ever, ever give up. Things will work out just fine" — he also used the occasion to boost his own ego and whine about the media.
"Now I want to take this opportunity to give you some advice. Over the course of your life, you will find that things are not always fair," he said. "Look at the way I have been treated lately, especially by the media. No politician in history, and I say this with great surety, has been treated worse or more unfairly. You can't let them get you down. You can't let the critics and the naysayers get in the way of your dreams."
But you can, Secretary of Homeland Security John Kelly told Trump, attack them with a ceremonial saber.
"Adversity makes you stronger. Don't give in, don't back down, and never stop doing what you know is right. Nothing worth doing ever, ever, ever came easy," Trump said, apparently reading a list of aphorisms found after Googling "motivational words to say in speech."
The 30-minute speech, which one might expect to be about the accomplishments of the graduates, then turned into a list of Trump's own accomplishments, both real and imaginary.
"I've accomplished a tremendous amount in a very short time as president," Trump said, before listing off achievements such as getting Neil Gorsuch confirmed to the Supreme Court and saving the Second Amendment.
Other notable moments of the speech included Trump, after commending the 24,000 hours of community service performed by cadets, speaking about how he wouldn't speak about saving money in the F-35 program, observing astutely that "something is happening all the time with the Coast Guard," and ending the speech by telling the crowd to, "Enjoy your life."