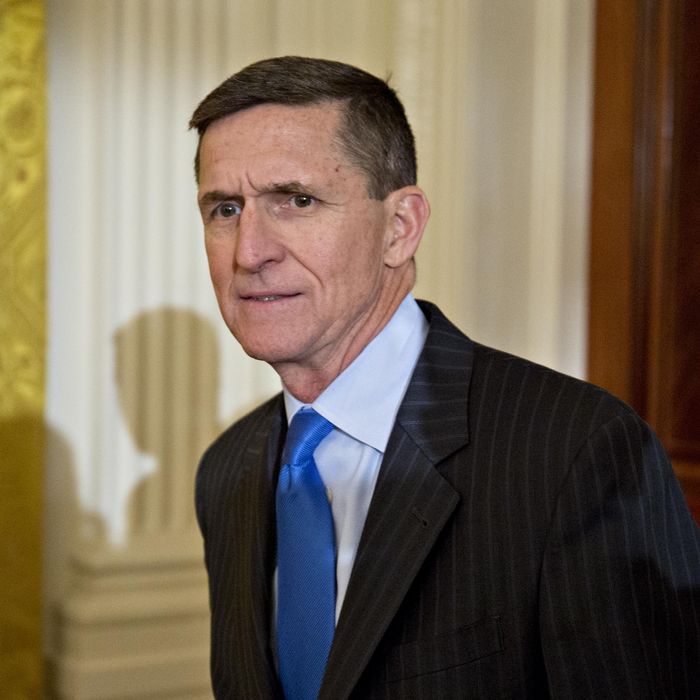 Michael Flynn, the Trump administration's Whitewater.
Photo: Andrew Harrer/Bloomberg via Getty Images
A day after the election, President Obama told Donald Trump that Michael Flynn, whom he'd fired as head of the Defense Intelligence Agency in 2014, was not fit for a role in his administration. Trump ignored this warning, making Flynn his national security adviser.
Less than a week after the inauguration, acting Attorney General Sally Yates told White House counsel Donald McGahn that Flynn was lying about his calls with the Russian ambassador, and could be vulnerable to blackmail by the Russians. The Trump administration kept Flynn on for another 18 days, then fired him, ostensibly because he'd misled Vice-President Mike Pence.
Trump's bizarre loyalty to Flynn has been a recurring theme in a number of scandals — most recently former FBI director James Comey's claim that Trump urged him shut down the federal probe into Flynn a day after the national security adviser resigned.
A report on Wednesday night made Trump's decision to hire Flynn even more baffling. According to the New York Times, on January 4 — weeks before the inauguration — Flynn told the Trump transition team that he was under federal investigation over secretly lobbying for Turkish interests during the campaign. Flynn only registered with the Justice Department as a foreign agent in early March, saying he was paid $530,000 last year for work that "could be construed to have principally benefited the Republic of Turkey."
In early August, Flynn signed a 90-day contract with Inovo BV, a Dutch company owned by the Turkish businessman Ekim Alptekin, who is close to Turkish president Recep Tayyip Erdogan. Flynn was reportedly tasked with discrediting Fethullah Gulen, a cleric who lives in Pennsylvania, who Erdogan accused of orchestrating Turkey's failed coup attempt last summer.
On Election Day, the Hill ran an op-ed penned by Flynn in which he said Turkey "needs our support" and compared Gulen to Osama bin Laden. The op-ed raised concerns that Flynn was working as an unregistered foreign agent, and on November 30 the Justice Department informed Flynn that they were looking into the matter. According to the Times, Flynn alerted the Trump transition about a month later:
Mr. Flynn's disclosure, on Jan. 4, was first made to the transition team's chief lawyer, Donald F. McGahn II, who is now the White House counsel. That conversation, and another one two days later between Mr. Flynn's lawyer and transition lawyers, shows that the Trump team knew about the investigation of Mr. Flynn far earlier than has been previously reported.
Nevertheless, Trump decided to go ahead with plans to make Flynn his national security adviser, giving him access to highly classified intelligence and making him privy to most of the president's interactions with foreign leaders. McClatchy reported on Wednesday night that a potential conflict arose even before Flynn was sworn in. Ten days before Trump's inauguration, the Obama administration asked Flynn to sign off on a plan to arm Syrian Kurdish forces in the fight against ISIS, which had been in the works for seven months. Flynn said to hold off, which delayed the operation for months. It's unclear why Flynn gave the order, but Turkey happens to oppose the move, arguing that the Kurdish forces have ties to a terrorist group. Trump eventually approved the plan, weeks after Flynn was fired.
The revelation raised extremely serious questions about foreign policy decisions Flynn made during his brief tenure as national security adviser. Per McClatchy: "Some members of Congress, in private conversations, have even used the word 'treason' to describe Flynn's intervention, though experts doubt that his actions qualify."
Coupled with the Times report, it also added fuel to an old Flynn-related scandal. After Flynn registered as a foreign agent in March, the White House said President Trump was not aware of his lobbying for Turkey, though it was widely reported before his hiring. And when asked about Flynn registering as a foreign agent in a Fox News interview, Pence said twice, unprompted, "hearing that story today was the first I'd heard of it."
Pence was the head of the Trump transition team. In November, Elijah Cummings, ranking member of the House Oversight Committee, sent Pence a letter raising concerns about Flynn being paid by Russian and Turkish interests. In March, the Associated Press reported that prior to the inauguration, Flynn's lawyer told Trump's attorneys that he may need to register as a foreign agent. Now the Times reports that Flynn informed the Trump team that he was under investigation as well.
Is what Pence told Fox News false, or are many, many more Trump officials about to lose their jobs for lying to the vice-president?