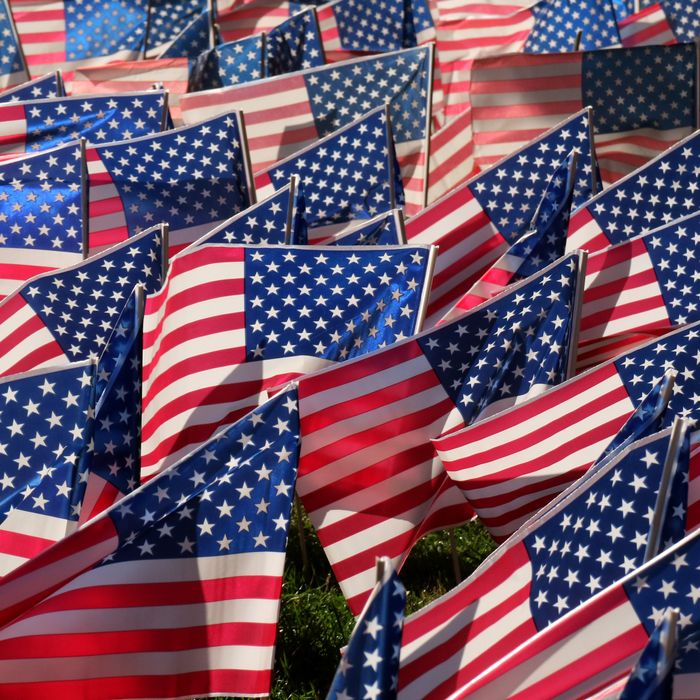 Do Americans have a Memorial Day obligation beyond honoring those who served and died in wars?
Photo: Gary Hershorn/Getty Images
President Trump returned home from his first overseas trip in time to fulfill one of the presidency's most hallowed traditions: commemorating Memorial Day at Arlington National Cemetery.
Trump's speech was entirely appropriate and occasionally eloquent. He did not depart from his central mission of remembering and honoring fallen members of the military. The causes to which he dedicated their sacrifices extended no further than simple love of country, freedom, and "civilization." His bitterest enemies could have taken no exception to his words.
But one could not help but wonder if he missed an opportunity today.
On Friday night in Portland, Oregon, two men were murdered while defending two young women on a train against an armed, raving white supremacist who was shrieking anti-Muslim invective at them.
It took the president a while to take notice of this horrific incident. After devoting multiple tweets to less elevated topics — including attacks on the news media for not giving him the kind of coverage he thinks he deserves — Trump finally acknowledged the Portland slayings today:
What he might have acknowledged then or at Arlington cemetery was that one of the two murdered men, Ricky John Best, was a 23-year Army veteran who had served in Afghanistan and Iraq. Clearly, the spirit of service and self-sacrifice Best learned in the military stayed with him, and is now serving as an extraordinary example to the many people mourning his death (and that of the other brave victim, Taliesin Myrddin Namkai-Meche) today.
And that's the Memorial Day theme Trump might have reached for in an effort to reach beyond his own entrenched audience and separate himself from the purveyors of hate who revere him even if he despises them. No one can rationally blame Trump for the acts of this murderous lunatic in Portland. But it's not to much to ask him to pay attention to anti-Muslim violence perpetrated by self-styled patriots.
In his final Memorial Day speech at Arlington last year, President Obama said many of the same things his successor said today. But he went one step beyond:
A nation reveals itself not only by the people it produces, but by those it remembers. We do so not just by hoisting a flag, but by lifting up our neighbors. Not just by pausing in silence, but by practicing in our own lives the ideals of opportunity and liberty and equality that they fought for.
On a day of remembrance, honoring a soldier who without orders once again placed himself in harm's way to protect the innocent would have been a fine gesture. Maybe that's worth another presidential tweet.