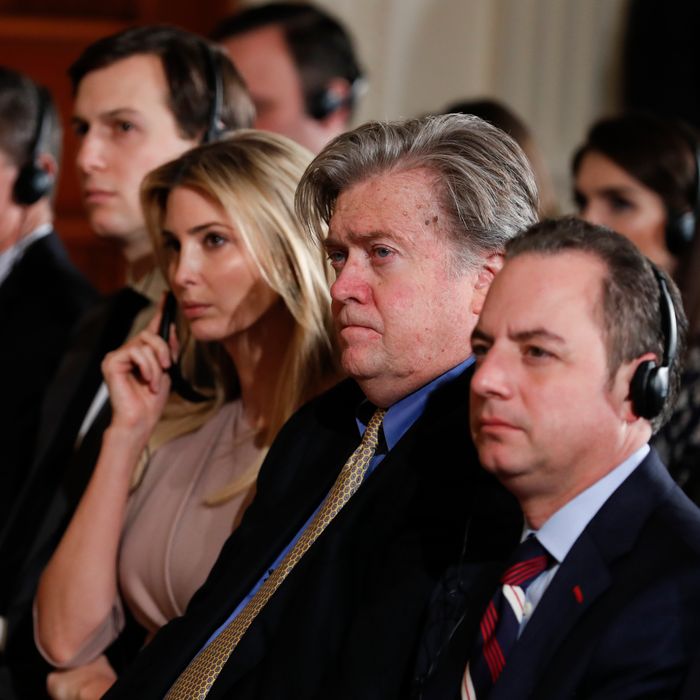 Team Trump in happier times. From left, Sean Spicer, Gary Cohn, Michael Flynn, Jared Kushner, Ivanka Trump, Steve Bannon, and Reince Priebus.
Photo: Carolyn Kaster/AP
With few ties to Trump and so little name recognition that he never made it into an SNL sketch, White House communications director Michael Dubke made an excellent scapegoat for the troubled administration. However, it seems Dubke's resignation announcement on Monday only intensified the fear among top White House staffers that they may be fired from the job they appear to hate.
The New York Times reported on Tuesday night that despite a relatively successful overseas trip, President Trump "appears increasingly isolated," and is still talking about a major staff shakeup. Even advisers related to Trump are feeling the heat, and they've each found different ways to cope.
White House Press Secretary Sean Spicer may be under the most pressure. Trump, like much of America, has reportedly been highly critical of his performance during televised press briefings, and now he'll go back to juggling the role of communication director, too, until a replacement can be found for Dubke.
Spicer showed signs of stress on Tuesday, though he insisted the president is "very pleased with the work of his staff." As the Washington Post noted, Spicer seemed to be leaning into the Trumpian rhetoric hard at Tuesday's briefing:
"It truly was an extraordinary week for America and our people," White House press secretary Sean Spicer said Tuesday afternoon as he kicked off a gushing recap to reporters that lasted roughly nine minutes and featured the word "historic" a half-dozen times.

Spicer channeled his boss as he declared that Trump's speech to leaders of more than 50 Arab and Muslim nations "was a historic turning point that people will be talking about for years to come" and "was met with nearly universal praise." He claimed that the president single-handedly "united the civilized world in the fight against terrorism and extremism" and that his meetings at the Group of Seven summit in Sicily "were marked by outstanding success."
Dubke's departure came with other changes for the communications team, and Spicer is now expected to do fewer on-camera briefings. A Republican close to the White House told Politico that the only reason Spicer was carrying out the normal duties of a press secretary on Tuesday was to irritate the press. "Spicer wanted to do it, and Trump was good with it," the source said. "I'm not sure how often he'll do it from now on, but today was to give the middle finger to you guys."
White House Chief of Staff Reince Priebus has tried another approach: managing expectations. Over the weekend, the Washington Post reported that there's been talk of making Priebus, whose mother is of Greek descent, ambassador to Greece to make his ouster less humiliating. According to the Times, Trump has repeatedly joked about this, and "speculation grew last week when a list of ambassadors was compiled at Mr. Priebus's request, and the Athens position was left blank."
Trump has reportedly been soliciting opinions on making Gary Cohn, his national economics adviser, or David Urban, who was an aide to the late senator Arlen Specter, his next chief of staff. As for Preibus, he's reportedly told friends that he just hopes to stay in the job for a year.
Similarly, Jared Kushner returned to work determined to act as if the weekend's headlines hadn't been dominated by reports that he tried to establish a secret back channel to Russia. According to Politico, he led three meetings in the West Wing on Tuesday, and never alluded to the controversy.
White House strategist Steve Bannon actually seems to be thriving in this even-more-cutthroat version of Trump's White House. The Times said he appeared "reinvigorated" and is trying to convince the president that he needs to revamp his administration and focus more intently on nationalist policies. "He's talking like he's giving orders again," a source told Axios. "This is the [stuff] we love — being under attack."
White House staffers can comfort themselves with the thought that Trump often talks of firing staff, but doesn't follow through. Last month Bannon's days in the Trump White House appeared to be numbered, but he managed to hold on even as so-called "globalists" like Kushner and Cohn rose to power.
Plus, the task of finding replacements for top staffers has only grown more difficult with the appointment of a special counsel, as some worry that they'll need to lawyer up before joining the scandal-plagued administration. BuzzFeed reported on Tuesday that it had spoken with more than 20 experienced Republican communicators and operatives, and nearly all said they had no interest in replacing Dubke.
In fact, they seemed to be competing to reject the idea in the most colorful terms. "That's like asking someone who just witnessed a horrific bungee jumping accident whether they would like to go next," said one GOP source. "You're going to come out of the administration with your reputation in tatters, your credibility utterly destroyed, and your job prospects close to nil unless you want a low level CNN contributorship," said a veteran of the George W. Bush administration.
There is at least one person who seems interested in coming to the Trump administration's aid: Corey Lewandowski. Trump's former campaign manager is reportedly under consideration for a new role managing the fallout from the Russia investigation. He may wind up with an outside group pushing the president's agenda, but one top Trump aide told the Daily Beast they found the prospect of him coming to work in the White House repulsive.
"I gagged when I [first] heard that," the aide said. "[Corey] will not be an asset in the West Wing. He would be a hothead in a [White House] that needs the opposite."