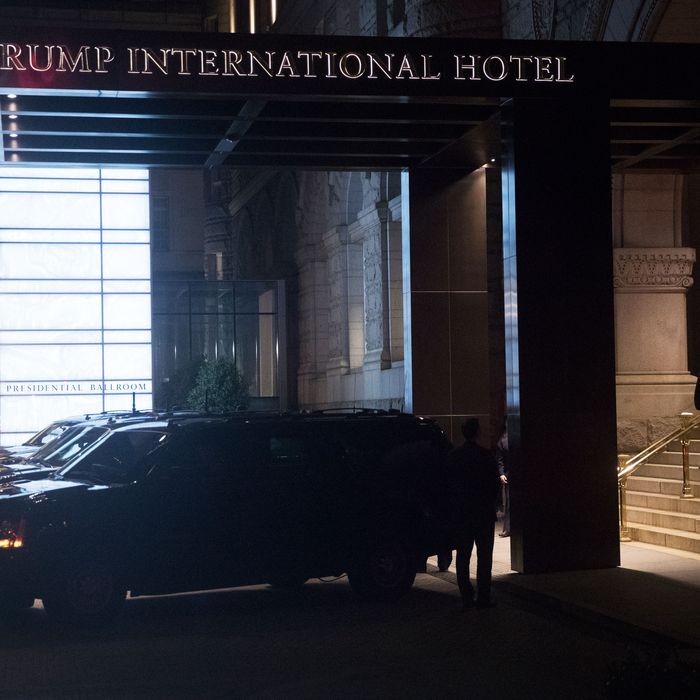 Trump at the Trump in D.C.
Photo: Shawn Thew - Pool/Getty Images
In early January, Donald Trump's personal lawyer promised that the Trump Organization would donate hotel profits from foreign governments to the U.S. Treasury. It was Trump's way of trying to relieve concerns about receiving foreign emoluments without giving up his stake in his company. "This way it is the American people who will profit," the lawyer said.
Less than six months later, the Trump Organization has said it does not plan to fulfill that promise. The announcement comes by way of a newly released pamphlet from the Trump Organization that implicitly calls the original promise a big dumb idea.
The problem begins with identifying who is a representative of a foreign government, the pamphlet says. That would require asking every guest of Trump hotels, along with guests of affiliated bars, restaurants, and spas, if they represent a foreign government. And that "would impede upon personal privacy and diminish the guest experience of our brand," the pamphlet says.
So instead, the Trump Organization will only include obvious payments from foreign governments when making its donation. Profits that are more difficult to link to a foreign government — those from state-owned businesses that isn't obviously state-owned, for example — would remain with the Trump Organization. The burden of flagging payments from foreign governments, the Trump Organization appears to be suggesting, is on foreign governments, not the company itself.
As Maryland representative Elijah Cummings, the ranking Democrat on the House Oversight Committee, wrote in a letter to the Trump Organization, that's a woefully inadequate setup. "Under the policy outlined in this pamphlet, foreign governments could provide prohibited emoluments to President Trump, for example through organizations such as RT, the propaganda arm of the Russian government," he wrote. "Those payments would not be tracked in any way and would be hidden from the American public."
Further rankling Cummings is the Trump Organization's plan to estimate foreign profits, rather than tracking them so an exact amount can be donated. The pamphlet calls the idea of tracking these payments impossible "without an inordinate amount of time, resources and specialists."
Of course, Trump has another option that requires him to neither keep nor break his promise. He could divest from his company like he should have in the first place and relieve all worries about constitutional violations — at least when it comes to emoluments.