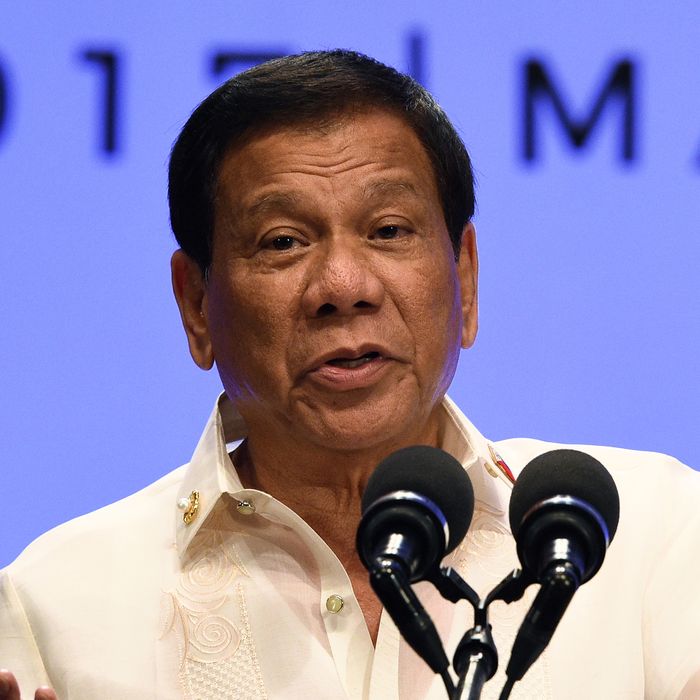 Obama never appreciated his human-rights abuses.
Photo: Ted Aljibe/AFP/Getty Images
Back in April, the White House said that during a phone call with President Rodrigo Duterte of the Philippines, President Trump extended an invitation to the White House to Duterte, and they "discussed the fact that the Philippines is fighting very hard to rid its country of drugs." The brutal crackdown on both drug dealers and drug users has reportedly killed more than 7,000 people since it was implemented a year ago, with many innocent people targeted.
Now we know what Trump found commendable about this widely condemned slaughter. According to a transcript of the call obtained by the Intercept and the Washington Post — which was produced by the Philippine Department of Foreign Affairs and confirmed by a senior Trump administration official — this is what Trump said to Duterte, following some small talk about how neither man sleeps much:
TRUMP: I just wanted to congratulate you because I am hearing of the unbelievable job on the drug problem. Many countries have the problem, we have a problem, but what a great job you are doing and I just wanted to call and tell you that.

DUTERTE: Thank you, Mr. President. This is the scourge of my nation and I have to do something to preserve the Filipino nation.

TRUMP: I understand that and fully understand that and I think we have had a previous president who did not understand that, but I understand that and we have spoken about this before.
Indeed, when Obama offered some mild criticism of the policy, urging Duterte to fight addiction "the right way" rather than indiscriminately killing people, the Philippine president called him the "son of a whore" who should "go to hell."
Trump's vague praise for Duterte's policy fits with his tendency to fawn over strongmen and ignore their human-rights abuses — to their faces, at least. The rest of the call involves Trump trying to get Duterte's read on North Korean leader Kim Jong-un. "What's your opinion of him, Rodrigo," Trump asks. "Are we dealing with someone who is stable or not stable?"
Duterte says, "His mind is not working well and he just might go crazy one moment," and expresses concerns that Kim could start a nuclear war.
"We have a lot of firepower over there," Trump reveals. "We have two submarines — the best in the world — we have two nuclear submarines, not that we want to use them at all."
Later in the call, Trump adds, "We can't let a mad man with nuclear weapons let on the loose like that. We have a lot of firepower, more than he has, times 20 — but we don't want to use it."
Three days after the call, Trump raised the possibility of direct talks with Kim, saying he would be "honored" to meet him "under the right circumstances."