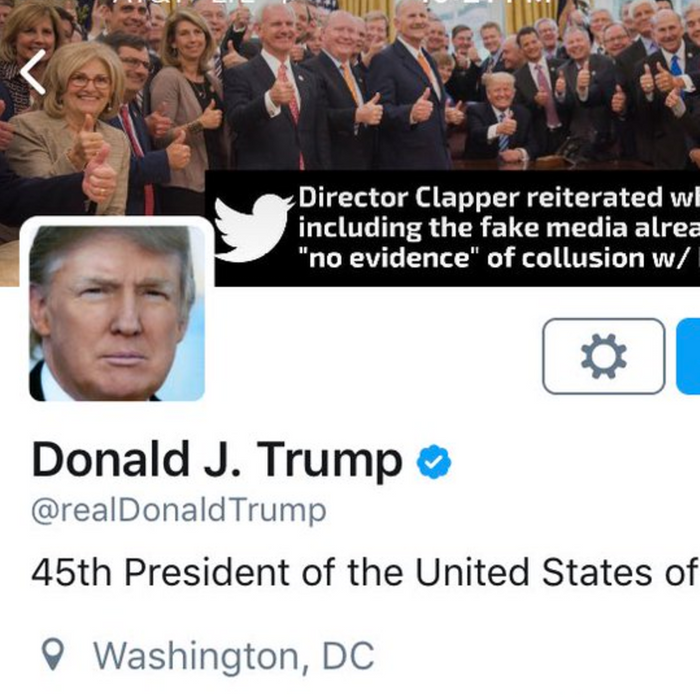 The Twitter profile of the most powerful person in the world.
President Trump wants Americans to know that the allegations that his campaign colluded with Russia are completely false. In less contentious times, the president could have simply released a statement saying he's confident the Senate's investigation of this matter will show none of his aides engaged in any wrongdoing, and he won't let the controversy distract him from his duties.
But since everyone knows the mainstream press mostly reports "fake news" nowadays, Trump was forced to highlight the key points from today's Senate hearing himself. In a series of tweets on Monday afternoon, Trump noted that former Director of National Intelligence James Clapper said he was not aware of any evidence that proves there was collusion between the Trump campaign and Russia. (He did not mention that Clapper also said he was unaware that the FBI was investigating Trump's Russia ties until the probe's existence was publicly revealed in March, or that former acting Attorney General Sally Yates said she could not comment on the matter because it involves classified information.)
Still, Trump couldn't be sure that the American people would see his take on the Senate's hearing, since interest in his tweets has been dropping off in recent months. How could he make everyone aware of this irrefutable proof that the Russia story is a "total hoax"? Suddenly, Trump had a genius idea: make someone in the White House Photoshop his tweet into his Twitter banner:
There was just one problem: if someone viewed Trump's Twitter profile on a desktop computer rather than a mobile device, it looked like this: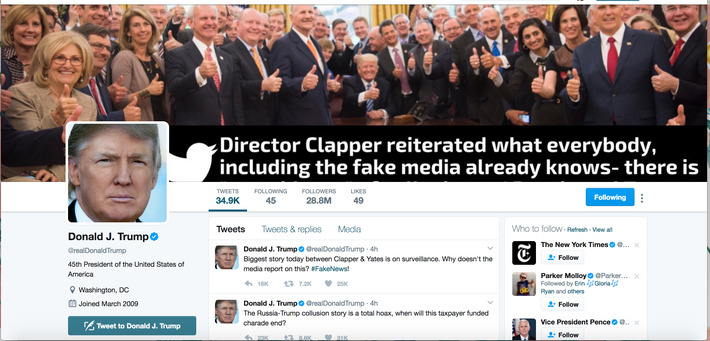 By early Tuesday morning, the banner had been removed. If only Twitter had some way to keep a tweet pinned to the top of your profile!