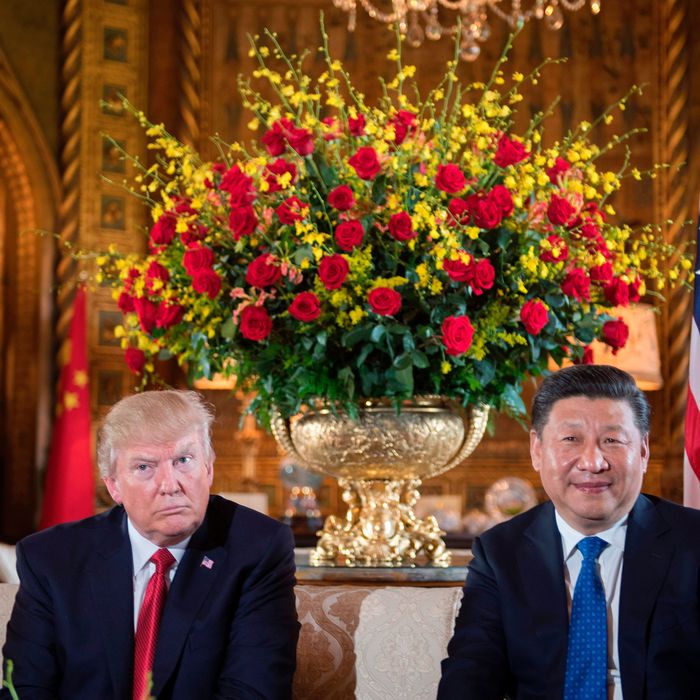 Trump and Jinping.
Photo: Jim Watson/AFP/Getty Images
For a while there, it looked like Donald Trump might start a trade (and/or nuclear) war with China. In the weeks after his victory, the president-elect called into question American support for the One China policy, and threatened to place a 45 percent tariff on Chinese goods. Then, secretary of State nominee Rex Tillerson vowed to block China from accessing its disputed islands in the South China Sea — a promise that would (almost certainly) require military force to uphold.
Beijing responded to these provocations by flying a nuclear-capable bomber over those islands, and broadcasting its willingness to defend its territories militarily through state media.
So, if any aspect of the Trump presidency has exceeded expectations, it has to be the administration's handling of U.S.-China relations. Sure, the current level of comity between Beijing and Washington may have come at the cost of blatant corruption (congratulations to Ivanka on those trademarks). And sure, there's a good chance Xi Jinping is taking advantage of our Fox News grandpa-in-chief's dearth of geopolitical expertise in ways we don't yet understand. But better for our republic to become overtly kleptocratic — and/or for our great grandchildren to speak Mandarin as their first language — than our major coastal cities to fall prey to nuclear holocaust.
Plus: The Trump administration may actually be making modest progress on improving U.S.-China trade relations.
While our president was busy undermining rule of law in the United States, one tweet at a time, his trade team struck a preliminary deal that would allow cooked Chinese poultry products into the U.S. market, and (supposedly) American beef exports into China. The agreement also suggests that American firms will soon be able to sell liquid natural gas on the Chinese market, while American and Chinese regulators will cooperate in oversight of financial transactions, and Chinese safety reviews of American biotechnology applications will be expedited.
As Axios notes, there's probably less to this deal than meets the eye:
The agreement is "underwhelming" and "mostly aspirational," an international trade expert tells Axios — note the language: the U.S. "welcomes China," China "may proceed," the U.S. "recognizes," the U.S. "remains committed," and so on. This leaves a lot of questions as to what weight this agreement will ultimately hold.

For example: China will review eight pending U.S. biotech product applications that they have been on hold, but no guarantee to approve them … China will issue guidelines to allow U.S.-owned suppliers of electronic payment services to begin licensing processes. Again, this sounds like a win but the U.S. has already won a WTO trade dispute against China on these payment systems.

The takeaway: "It's a lot like Trump's executive orders that talk a lot but didn't do much," according to the former U.S. official.
Notably, China had already announced in September that it would open its market to U.S. beef, and then never followed up on that vow. So, there remains some uncertainty even about the deal's headline "win" for the U.S.
But by the standards of an administration that has already engineered diplomatic crises with the United Kingdom, Canada, and Australia, an overhyped, aspirational trade deal with China counts as a "big league" victory.
Nonetheless, these minor gains weren't enough to satiate Trump's ego. So he also (baselessly) insisted in an interview with The Economist this week that he had also, single-handedly, forced China to stop holding down the value of its currency. Trump's Treasury Secretary Steve Mnuchin — a Wall Street veteran who knows very well that isn't true — backed up the president's claim, saying, "Right, as soon as the president got elected they went the other way."