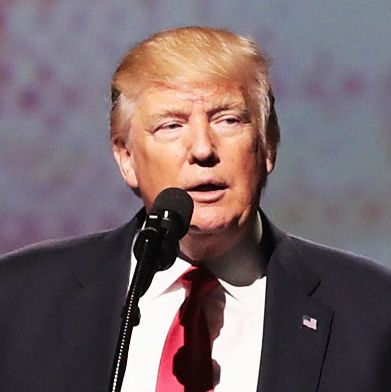 "Let's talk, supreme leader to supreme leader."
Photo: Scott Olson/Getty Images
President Trump has a thing for strongmen. As a private citizen, the mogul often found occasion to praise Vladimir Putin, Saddam Hussein, Bashar al-Assad, and China's authoritarian government — specifically for showing a "firm hand" to the students at Tiananman Square: "They were vicious, they were horrible, but they put it down with strength. That shows you the power of strength."
Becoming the so-called leader of the free world has not tempered Trump's enthusiasm for the vitality of authoritarians. In recent weeks, the president congratulated Turkish president Recep Tayyip Erdoğan for effectively ending his nation's democracy, expressed approval of Rodrigo Duterte's program of extrajudicially assassinating supposed drug dealers, and reiterated his admiration for Kim Jong-un's success in securing the title of Supreme Leader at such a young age.
And on Monday, Trump said that he would be "honored" to meet with the young man, should circumstances allow it.
"If it would be appropriate for me to meet with him, I would absolutely, I would be honored to do it," Trump told Bloomberg News. "If it's under the, again, under the right circumstances. But I would do that."
"Most political people would never say that," Trump acknowledged, "but I'm telling you under the right circumstances I would meet with him."
Given Trump's odd affinity for the "strength" of human-rights abusers, his eagerness to meet with the North Korean dictator may strike some as shocking and unprecedented. But, in fact, on the level policy, Trump's stance toward Pyongyang is arguably more hostile than that struck by Barack Obama during his presidential campaign, when the young senator suggested that he would negotiate "without preconditions" with America's enemies, including North Korea and Iran.
"I will meet not just with our friends, but with our enemies because I remember what Kennedy said, that we should never negotiate out of fear but we should never fear to negotiate," Obama reasoned.
Of course, Obama never suggested that he would feel "honored" to meet with Ayatollah Khamenei (and if he had, impeachment proceedings would surely have begun days after).
Trump did not specify what the "right circumstances" for such a meeting would be. But America's preconditions for direct engagement are widely seen as a pause in Pyongyang's nuclear program, and a declaration that the regime is open to negotiating over denuclearization.
With North Korea on pace to develop a nuclear missile capable of reaching the American mainland by 2020 (according to some estimates), tensions between Washington and Pyongyang have steadily heightened in recent months. This past week, North Korea test-fired a ballistic missile, and South Korea announced that a U.S. missile shield deployed to the nation is now ready for operation.