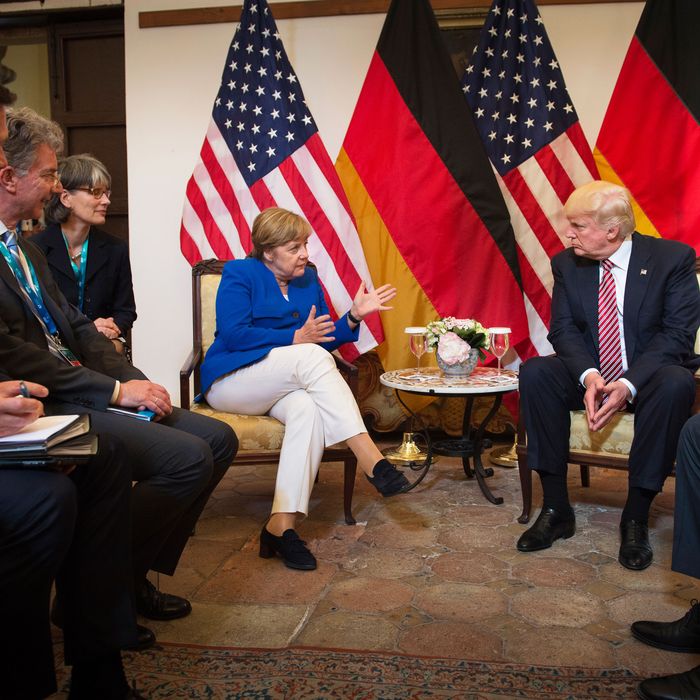 "Fine. Germany will give America 5 million jobs, but this is my final offer."
Photo: Guido Bergmann/Bundesregierung via Getty Images
On his first foreign trip as president, Donald Trump touched a glowing orb with the leader of an Islamist autocracy that he'd accused of orchestrating 9/11; suggested Israel is not a part of the Middle East; signed a Holocaust Museum's "Book of Remembrance" as though it were a middle-school yearbook; accidentally admitted that he had leaked highly classified Israeli intelligence to an ally of Iran; shoved the prime minister of Montenegro; said that Germany is "very evil"; turned a handshake with the French president into a naked struggle for dominance; and, somehow saved "millions of jobs" in the process.
Here's how an anonymous White House official justified Trump's claim to the Washington Post:
Trump was not talking just about the Saudi deals but "benefits to trade from the entire trip from Saudi Arabia to the G7." He noted that "any improvement on trade would save many jobs. Stopping even one bad trade deal can save millions. Changing the infrastructure of global trade to tilt it back toward the U.S. would save and create millions."
No old trade deals were canceled — or new ones announced — during Trump's trip.
Meanwhile, factory workers at Carrier's plant in Indiana are learning just how much Trump's claims about job-saving deals are worth:
Donald Trump stood outside a Carrier manufacturing plant in Indianapolis, Indiana weeks before taking office and boasted he just saved 1,100 jobs from being shipped to Mexico … Though Trump struck a deal with Carrier promising them $7 million in local business incentives if they kept their Indianapolis plant open, the heating and cooling company warned that it would still outsource a number of Indiana jobs to Mexico, regardless. But the Trump campaign still championed the deal as a win for American workers. This week, the Carrier announced it will cut 632 jobs from its Indiana plant by the end of the year.

…"There are some people who feel they were misled. Because he misled them," [president of the United Steelworkers 1999 Chuck] Jones said. "With him saying what he did that day, and not saying … that 550 jobs were still going to leave that facility and go to Mexico."
It's hard to blame Trump supporters for disbelieving reality-based media, given that the alternative would require acknowledging, on a near daily basis, that their hero is a con man.