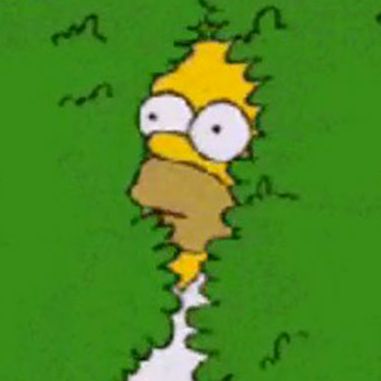 On Thursday, Donald Trump, as only Donald Trump can, made headlines after he appeared to shove Montenegro's prime minister, Dusko Markovic, out of his way in an attempt to position himself front and center for a photo op. As is, it's a disconcerting and comical clip, but it's almost better if you play it in reverse. Suddenly, Donald Trump wants to hide from the press as quickly as possible, and Prime Minister Markovic is his human shield. A human wall, if you will.
Backwards, the clip also bears a striking similarity to a very famous GIF from an episode of The Simpsons — "Homer Loves Flanders" from 1994 , if you want to get specific — in which Homer backs slowly into a bush to hide himself, after his neighbor, Flanders, turns down his invitation to hang out.
Really makes you think.