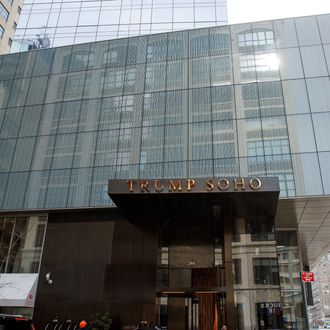 Photo: Drew Angerer/Getty Images
Koi, the celeb-approved restaurant in the Trump SoHo announced plans last month to shut down for good, citing a business slump following the 2016 election. The five-star hotel is also apparently struggling, and is now planning to lay off staff, sources told WNYC. According to the report, corporate bookings have decreased by two-thirds in the first five months of this year, and nightly rates have dropped to under $400 per night — making the Trump SoHo a relative bargain compared to its five-star competition in New York City.
WNYC says that at least 12 of its 80-member attendant staff could be let go. The Trump SoHo will also get rid of one small luxury: its turndown service. A representative for the Trump organization told WNYC that "hotel rates and occupancy fluctuate due to factors such as seasonality and macro-economic forces," which the spokesperson described as typical for the industry. "The hotel continues to receive top accolades," the rep added.
The Trump SoHo news comes amid reports that bedbugs are plaguing guests at Trump's Vegas hotel, and that members of the Trump Organization are finding it difficult to track profits generated from representatives of foreign governments, and so won't be able to donate them all to the U.S. Treasury, as originally promised. While counting profits of any sort might not be relevant to the Trump SoHo anymore, the Trump International Hotel in D.C. seems to be doing just fine.