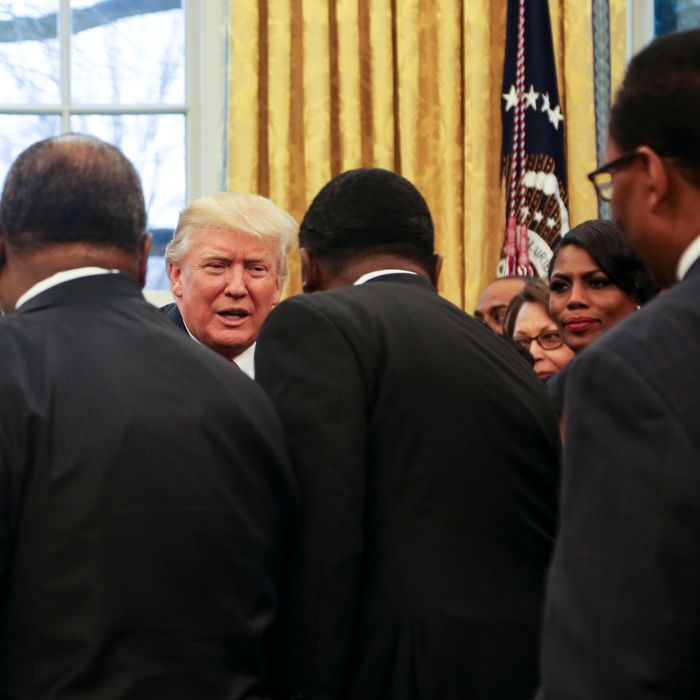 Trump shaking hands with HBCU leaders during a White House meeting in February.
Photo: Aude Guerrucci-Pool/Getty Images
President Donald Trump added his first-ever signing statement to the $1.1 trillion omnibus spending bill he signed into law on Friday, but made a confusing addition which would seem to call into question whether or not the White House will seek to block federal funding for historically black colleges and other minority-focused education programs. In his signing statement, which presidents typically use to indicate that they may attempt to disregard something contained in the bill, Trump suggested that such funding was not constitutional on account of it allocating benefits "on the basis of race, ethnicity, or gender." He mostly used the statement to note the provisions in the spending bill which he — or more likely, his advisers — thought would unconstitutionally conflict with his authority and duties as president, including this final section:
My Administration shall treat provisions that allocate benefits on the basis of race, ethnicity, and gender (e.g., Division B, under the heading "Minority Business Development"; Division C, sections 8016, 8021, 8038, and 8042; Division H, under the headings "Departmental Management Salaries and Expenses," "School Improvement Programs," and "Historically Black College and University Capital Financing Program Account"; Division K, under the heading "Native American Housing Block Grants"; and Division K, section 213) in a manner consistent with the requirement to afford equal protection of the laws under the Due Process Clause of the Constitution's Fifth Amendment.
As Politico notes:
Under the [financing] program, which was created by Congress in 1992, the Education Department provides federally-backed loans to historically black colleges and universities for the construction of buildings and other facilities. The bill provides $20 million in federal loan subsidies in fiscal year 2017 to support as much as $282 million worth of financing to the schools.
They also add that the "school improvement programs" would include a variety of education-related efforts, including ones that support Native Hawaiian and Native Alaskan students.
Trump's statement has confounded some advocates for historically black colleges and universities (HBCUs), who are already asking the White House what it's supposed to actually mean. (Politico was unable to obtain comments from the White House or the Department of Education.) Cheryl Smith, senior vice-president of public policy and government affairs at the United Negro College Fund, points out to Politico that HCBU designation isn't even based on race, "but rather on mission, accreditation status, and the year the institution was established." Law professor Derek W. Black additionally explained to Politico that the Trump administration seemed to be signaling that it would fight discrimination by withholding funding, but adds that there have been no court decisions or litigation suggesting there was any discrimination regarding these programs in the first place. Black also thought it was especially unusual that Trump would focus on race, ethnicity, and gender — but not religion or disability.
The move is also confusing because the Trump administration included general funding for HBCU's within its own "America First" budget proposal, though not the additional funding that HBCU leaders had asked for from Trump in person at a White House meeting in February. Instead, at that meeting, Trump signed an executive order moving administration of the White House Initiative on HBCUs, which helps the schools obtain federal funds, from the Education Department to within the White House. It was not at all clear, however, if the order indicated any substantive change or support, or was merely a reason for the president to be photographed signing something while surrounded by black leaders.