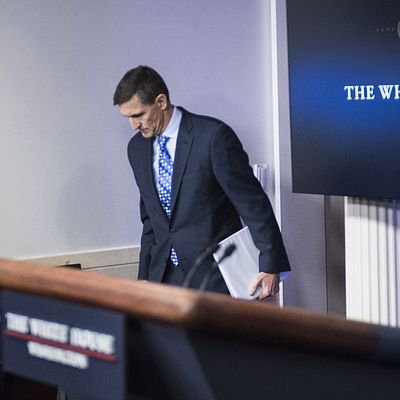 "Stay strong."
Photo: Jabin Botsford/The Washington Post/Getty Images
At a dinner in late April with a handful of friends, former national security adviser Michael Flynn said that he and President Trump are still in communication, according to Yahoo News. Flynn reportedly made it clear to those at the table that he still supports Trump, despite getting fired, and that the feelings of loyalty are mutual.
"I just got a message from the president to stay strong," Flynn said after the meal was over, according to two sources who are close to Flynn and are familiar with the conversation, which took place on April 25.
The Yahoo News report does not reveal how Trump communicated the message to Flynn, but the fact that they're talking at all could be trouble for Trump. Last week, the Daily Beast published a report that said White House lawyers have told him several times not to reach out to Flynn. Why?
If Trump spoke directly with Flynn amid ongoing investigations, it could be portrayed as witness tampering. Such conversations would create "HUGE issues," according to national security attorney Brad Moss. "Talking with witnesses got Nixon in trouble."

"The last thing they would want is an allegation of conspiracy, witness tampering or coordination," said Mark Zaid, Moss's partner, in an email. "If Flynn is going to be indicted, or certainly under investigation, then I would want the president to be as far away from him as possible."
But no lawyer is going to stop Trump from doing he what he wants, and he clearly wants to protect Flynn. The Yahoo News story provides some insight as to why Trump continues to stand by Flynn despite his track record of lying to campaign officials and deceiving the public.
"These are two men who bonded on the campaign trail," a Flynn friend told Yahoo News. "Flynn always believed that Trump would win. They were together so much during the campaign that Flynn became family. There has been zero sign of anything but supreme loyalty."