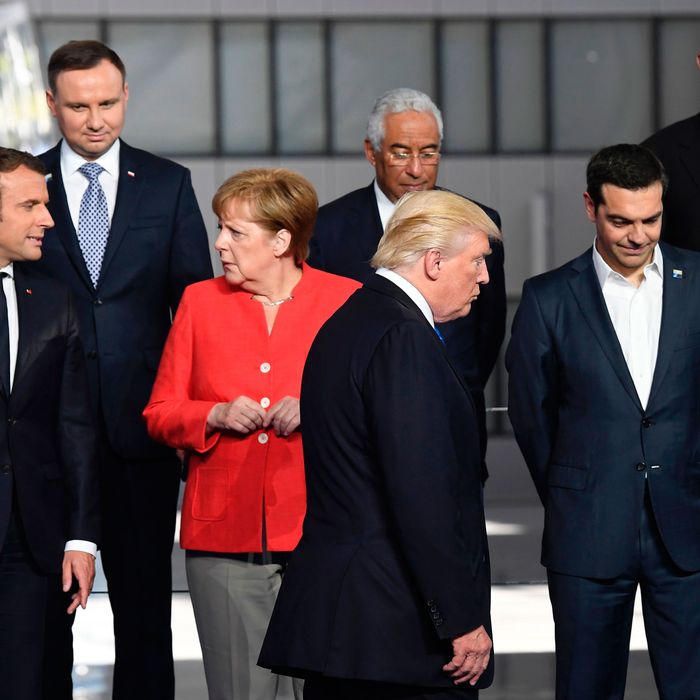 Lost in translation?
Photo: Eric Feferberg/AFP/Getty Images
In a closed-door meeting with European leaders Thursday, President Trump ripped Germany for running a trade surplus with the U.S., calling the nation "bad, very bad" or "evil, very evil," depending on the translation.
"Look at the millions of cars that they're selling in the USA. Horrible. We're gonna stop that," Trump added according to Der Spiegel, which heard about the conversation from someone in the room. EU Commission leader Jean-Claude Juncker reportedly stood up for Germany and defended the practice of free trade.
Trump's apparent pledge to end German car sales in the U.S. is a dumb one considering how many German cars are made in the U.S. As Slate notes, Daimler, Volkswagen, and BMW all manufacture hundreds of thousands of cars in the Trump-loving South each year.
A separate report from the newspaper Süddeutsche Zeitung noted that Trump's chief economic adviser Gary Cohn also made a fool of himself in the meeting. In the meeting Cohn reportedly spoke about striking separate trade deals with Germany and Belgium, which wouldn't be possible since EU nations negotiate trade deals as a group. This is a point Germany's Chancellor Angela Merkel had to make to Trump nearly a dozen times when they met last month.
"The EU side was terrified about the lack of awareness," Der Spiegel reports.