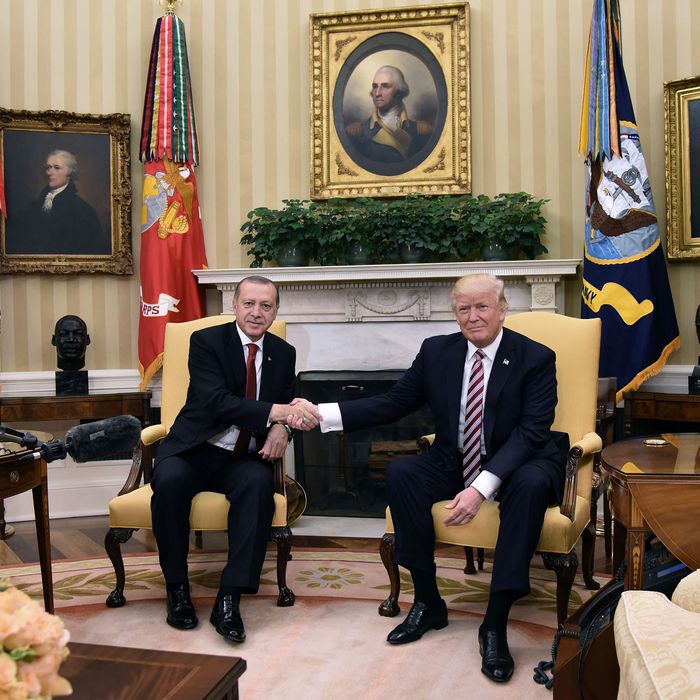 President Donald Trump shakes hands with Turkish president Recep Tayyip Erdogan during a meeting in the Oval Office of the White House in Washington, D.C., on May 16, 2017.
Photo: Olivier Douliery/AFP/Getty Images
President Trump welcomed Turkish president Recep Tayyip Erdogan to the White House on Tuesday as the administration faces down the latest controversy surrounding Trump's reported leaking of highly classified intel to Russian officials.
Trump hosted Erdogan for a sitdown in the Oval Office before the two delivered a joint address in the Roosevelt Room. In keeping with tradition, Trump's handshake with the Turkish president went slightly awry, this time featuring a rarely seen awkward arm pat.
"It is a great honor to have President Erdogan from Turkey here," Trump said, mispronouncing the leader's name (he used a hard "g"; it's supposed to sound like this). "We're going to have long and hard discussions. I know that they're going to be very successful."
The Turkish president's White House meeting comes at a critical time. Turkey is a NATO ally and key member of the coalition fighting ISIS in Syria. Yet Turkey has bristled at the U.S.'s strategy of arming the Syrian Kurds to battle the extremists on the ground, which it sees as tied to the PKK, which both Turkey and the U.S. consider a terror group. That subject is likely even more fraught now, after the Pentagon announced a plan last week to ramp up the arming of the Kurds for an offensive to retake Raqqa.
And then there's Turkey slipping from democracy toward authoritarianism under Erdogan. The Turkish leader has cracked down on dissent following last summer's coup attempt, jailing tens of thousands of civil servants, judges, and journalists and shutting down independent media. Erdogan recently won a controversial referendum that greatly expands his powers, and even received a congratulatory call from Trump, despite the referendum's threat to Turkey's democratic institutions.
Those potential conflicts barely came up in the public address by the two leaders. Trump, who again mispronounced Erdogan's name, continued his practice of keeping things chummy with authoritarians. He lauded the American-Turkish friendship and alliance ("Turkish courage in war is legendary," Trump said. "That is so true.") offered support to Turkey in its fight against terror, mentioning both ISIS and the PKK. Trump brought up its role in Syria and the need for a peaceful solution to the civil war, and continued cooperation between the two countries on trade and military matters.
Erdogan started off with some flattery, saying he wanted to congratulate Trump on the "the legendary triumph he has garnered in the aftermath of the elections." He also echoed Trump's sentiments for continued U.S.-Turkish cooperation against terrorism and on trade and defense. Erdogan will, according to reports, bring up the Trump administration's support for the PKK privately in meetings.
President Trump took just one question after the meeting — on the topic of the sharing of intel with the Russians. Trump did not mention the intel, but said that they had a "very, very successful meeting" with the Russian foreign minister. "We're going to have a lot of great success over the next coming years," Trump said, "and we want to get as many to help fight terrorism as possible. That's one of the beautiful things that's happening with Turkey. The relationship that we have together will be unbeatable."